B. T. Innovation
Innovative mobile silage wagon panels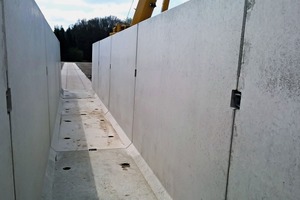 Figure: B. T. Innovation
Mobile silage wagon panels, which are each structurally connected by three BT turnbuckles and are immediately ready for use
Figure: B. T. Innovation
Successful application scenarios range from ordinary flood protection walls to the complex fairway of the "Chiapas" log flume roller coaster in the "Phantasialand" in Brühl near Cologne in Germany. These are impressive testimony that the BT turnbuckle from the company B. T. Innovation, based in the German city of Magdeburg, is a versatile solution for connecting precast concrete elements. Zink GmbH, a precast concrete plant specializing in wastewater systems, has extended its production by in-house developed innovative mobile walls for silage wagons, which provide another solution for dry connections.
Holger Tycher and Claas Wolters, Managing Directors at Zink GmbH, view their company as a strongly established player in the field of technologically mature agricultural precast constructions. From package sewage treatment plants to pre-stage liquid-manure tanks and silage effluent containers, the company competently covers many agriculturally relevant types of construction. High quality standards and sustainability considerations are among the company's top priorities. Practical user value and long service life of structures are the main interest of farmers.
Higher layers piled up ­between concrete panels
While driving across German rural roads, one often sees mounds enclosed in welded airtight plastic sheeting, usually weighed down with car tires. These so-called field bunkers serve farmers as long-term storage facilities for fodder.
The raw fodder, usually grass or chopped corn, ferments to form durable fodder that can be stored and fed to animals all year long. The so-called silage effluent that results from the fermentation process, as well as the residual moisture, is a by-product. The silage effluent that leaks out must be controlled, with the result that more and more field bunkers are being erected on asphalt surfaces. There is a restriction on the size of these asphalt surfaces at large agricultural production sites, which means that they must be used very efficiently. "Piling up the raw fodder materials higher by providing the silage wagons with side panels represents a logical solution," says Tycher. In this way, the farmer has greater valuable storage capacity.
Loadable immediately ­after installation
For this specific purpose, the company has now designed mobile panels for such silage wagons and developed them to the point of series production. From the aspect of construction engineering, these U-shaped mobile silage wagon panels are precast elements that are connected to each other by means of the "dry" precast element connection device, the BT turnbuckle. This solution requires little assembly labor, and the panels can be provided in any required quantities to provide the necessary storage capacity. Their use is independent of weather. The result is an increase in storage capacity.
The special benefit: the innovative structural connection with the officially approved BT turnbuckle requires no hardening time and can be loaded with the allowed levels of tensile and shear strength immediately after installation. The structural connection enables freestanding elements to be loaded on both sides. In addition, these panels are safely accessible by personnel walking between the walls. In interaction with the compressible RubberElast sealing tape, the mobile silage wagon panels in this way can show their strength for everyday use, while satisfying the important demand for long service life and low maintenance.
Long-term durability
The RubberElast sealing tape renders the connection between the mobile concrete panels absolutely air- and watertight in a single work step: which of course has a very positive effect on work by subsequent trades. As for the BT turnbuckle, weather fluctuations do not prolong installation time, since the sealing tape can also be processed at low temperatures, under which conditions it retains its elasticity. "We have decided on the durably elastic RubberElast because it ensures reliability, especially in regard to resistance to for acids," says Tycher. "We are able to offer our customers a product without labor-intensive maintenance joints"
Since Zink GmbH will carry out installation of the connection systems if the customer so requests, the company itself profits from the product combination. "The BT turnbuckle and RubberElast complement each other perfectly and offer absolutely time-tested and durably tight connections between the precast elements without special accessories, grout and formwork, or time-consuming work planning," says Tycher.