SUBMITTED BY/EINGEREICHT VON: KAISER
Innovation: Halox installation housing system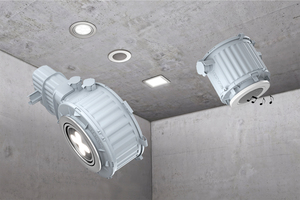 Figure: Kaiser
The new Halox installation housing system developed by Kaiser GmbH & Co. KG
Figure: Kaiser
The new Halox housing system offers space for new light and sound in concrete ceilings and walls. Its modular, shape-retaining and loadable design provides a secure installation compartment for loudspeakers and luminaires. Round, square or universal front parts ensure that luminaires or loudspeakers up to a ceiling cut-out of 250 mm can be installed. Optional extension rings provide even more space for greater installation depths. The toolless combination entry for M20/M25 conduits is quick to open and can be easily closed again even in the case of inappropriate insertion. It provides secure conduit retention with a depth stop.
The shape-retaining Halox system has a modular design to facilitate installation in cast-in-place concrete. Three housing diameters with a large number of round, square or universal front parts ensure the integration of luminaires and loudspeakers up to an installation diameter of 250 mm, even if architectural concrete is specified. The tunnel optionally integrated in the system provides sufficient space for operating devices such as LED drivers. Optional extension rings enable greater installation depths if and when required.
All front parts are moisture-resistant and can be accurately positioned and nailed in place even before installing the first reinforcement layer. Housings and front parts are firmly connected and clamped to each other, but their alignment can also be freely altered at a later stage. The toolless opening and combination entry for M20/M25 conduits enables quick and easy conduit insertion. The entry can be easily closed again even in the case of inappropriate insertion. It provides secure conduit retention with a depth stop, thus eliminating the need for subsequent internal conduit shortening.
After concrete pouring, front parts with a defined installation diameter can be opened by a gentle hammer blow. Universal opening front parts can be completely covered with plaster or putty. A conventional milling tool is then used to create the specified installation opening.
System suitable for prefabrication
The Halox system is designed as a single element for use in factory-based prefabrication. Markings on the housing ensure easy alignment on the formwork table. Housings with a pre-assembled mineral fiber board can be easily adhered to the surface; they can be moved by up to 360 degrees even after bonding to the table. Housings with pre-assembled front parts to accommodate magnets are available for magnet fixing.
Any deviations in excess of the installation tolerance range that occur during the assembly of panels or slabs can be compensated by the housing dimensions and a variable cut-out size. Reinforcement can be easily routed around the housing owing to its compact dimensions. Extension rings can be fitted on the cast-in-place job site to enlarge the installation compartment of the Halox housing in order to integrate luminaires and loudspeakers that require an installation depth in excess of 110 mm. Openings for M20/M25 conduits are installed on-site in a toolless process without internal conduit shortening.