Peikko Deutschland
Hollow-core slabs, composite beams and columns combined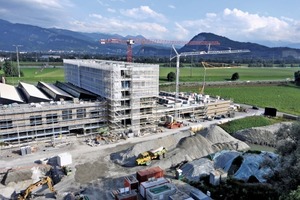 Figure: Gantenbein + Partner
The project is located on a scenic site near the three-country region of Switzerland-Austria-Liechtenstein
Figure: Gantenbein + Partner
For the construction of an office and production building in the eastern Swiss city of Kriessern, built at the cost of 60 million Swiss Francs, composite Deltabeams from Peikko were combined with composite steel columns. The objective was to erect the office area of 5,000 m² and the production area of 18,000 m² quickly and with as little manpower on site as possible. In addition, the office building had to be completed with large unsupported spans of up to 16 m.
Attractive building design and much spatial flexibility
The building was adjusted to the requirements of the three large companies that will occupy it: a manufacturer of excavators, a producer of digital printing systems and a specialist joinery. To accommodate their needs, the building of 180m length was broken up into two production wings and a central office tower.
For the Swiss architect Carlos Martinez from Berneck it was important to create an attractive building and much spatial flexibility. He therefore aimed for thin floors whose loads would be transmitted by as slender as possible columns. To implement a design of that kind within the short construction time available, a cost-efficient solution of a prefabricated system consisting of composite Deltabeams from Peikko, composite steel columns and hollow-core floor slabs from the company Oberndorfer were used.
Composite beams as support system for floors
The composite Deltabeam from Peikko is a support system for floors and consists of a trapezoidal welded steel profile with circular openings on the side. On its broadened bottom flanges it supports different floors system, such as, for example, lattice girders, hollow-core slabs, composite floor slabs and timber floors. To provide the system with its final bearing capacity, the composite Deltabeam is topped with in-situ concrete following installation. In this way, the beam, in the erection state, functions as pure steel construction and, after the concrete has hardened, as composite construction.
The soffit of the Deltabeam is completely level and no interfering joists are needed. The decision-makers decided on hollow-core slabs to obtain a relatively lightweight floor that could be walked on immediately following installation of the concrete elements without requiring temporary support.
Loads transmitted via ­composite steel columns
The loads of the individual stories are transmitted via composite steel columns. They consist of tubular or square steel tubes with an interior structural steel core encased in concrete between steel core and steel pipe for fire protection. The upper and lower ends of each column are closed with a head and/or foot plate of steel. The foot plates are provided with a mandrel to enable the construction team to position the pendulum columns in the floors. Following positioning of the columns, the construction workers leave a gap of around 2cm thickness between foot plate and concrete column. The gap is filled with flow mortar for final fixation of the vertical position of the columns.
Unsupported spans
of 16m achieved
In order to be able to combine the composite Deltabeam with the composite steel columns, the customary connection details were slightly modified. In this way, the elements could be easily connected with each other, like a modular system. With this element combination, an unsupported span of 16m could be achieved.
Only fifteen work days were required for building the individual stories – compared to conventional construction methods considerable time savings. The erection work could, moreover, be carried out by small teams of no more than five workers. In total, 162 composite steel columns, 5,000m² hollow-core plans and 588 m composite Deltabeams were installed.
Text:
Dipl.-Ing. Claudia El-Ahwany