SIKA
Filling and compaction aid for concrete products developed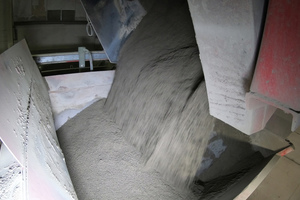 Figure: Sika Deutschland
The new SikaPaver HC-218 filling and compaction aid for manufacturing high-quality building materials reduces the stickiness of semi-dry concretes with increased water-cement ratios
Figure: Sika Deutschland
From now on, the newly developed SikaPaver HC-218 filling and compaction aid is available to the concrete product industry. The product on the basis of an innovative formulation minimizes the stickiness of semi-dry concrete with increased water-cement ratios.
In this way, a free-flowing concrete can be achieved that enables a uniform filling of horizontal as well as vertical molds. The additionally high compactibility leads to a dense concrete structure and shorter cycle times during the manufacturing process, respectively. Thus, SikaPaver HC-218 allows an economic production of concrete products with consistently high quality and strength.
Evaluation of the flowability of semi-dry concretes
In order to optimize the product formulation for a compaction aid showing improved filling properties, Sika especially developed a new test procedure. In this way, the efficiency of the compaction aids can verifiably be measured with respect to their effect on the flowability of semi-dry concretes. The objective assessment of the flowability has been a novelty in the industry until now and has enabled the extraordinary product innovation of SikaPaver HC-218.
Sika expands the existing wide range of SikaPaver concrete admixtures with this new development. These admixtures specifically optimize the manufacturing process and the quality characteristics of selected concrete products such as paving blocks, masonry, and curbstones.
Support in the product development process
In addition, Sika also operates a testing and development laboratory at the location in Leimen. There, manufacturers of concrete products are provided with the know-how of experienced application engineers in order to optimize the manufacturing process and the product quality of their products in the course of individual laboratory tests.
CONTACT
Sika Deutschland GmbH
Kornwestheimer Str. 103-107
70439 Stuttgart/Germany
+49 711 8009-0