Hauraton
Fiber-reinforced concrete channels for the "Moscow Raceway"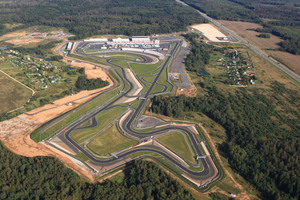 Figure: Hauraton
The "Moscow Raceway" with its 15 bends and various layout options meets all requirements for international motorsports competitions
Figure: Hauraton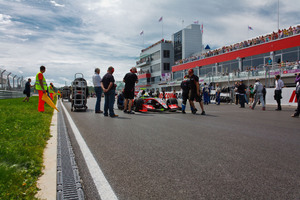 Figure: Hauraton
The covers can be easily removed in the paddock area to use the channels as temporary cable conduits
Figure: Hauraton
Cars and motorsports are immensely popular with many Russians. For about a year, the first race circuit of the country with an international motorsports license has been in service near Volokolamsk, about 100 kilometers north-west of the Russian capital of Moscow.
This "Moscow Raceway" is governed by the same principle as any other circuit: it is subject to enormous loads during racing events. Design, construction and technology thus needed to deliver complex solutions both on the surface and "underground".
Field test in Abu Dhabi
Hauraton was commissioned with delivering the drainage system for the race circuit. The German company has earned its merits not least because of the implementation of the storm-water drainage system at the Abu Dhabi race track, where the state-of-the-art Recyfix Hicap channels were installed. The outcome was convincing: the need for many manholes could be eliminated and construction time shortened as a result of this optimized solution.
On the basis of this positive experience, Arite Hirsch, senior manager at the Aachen-based Tilke design practice and responsible for the "Moscow Raceway" project, supported the use of Faserfix Super channels in Moscow. "The fiber-reinforced concrete channels produced by Hauraton excel with their robustness and failure strength whilst also providing a high degree of lateral stability. They resist the enormous loads and velocities that we had to consider for all our solutions," Hirsch commented. Another positive aspect of using Hauraton products is their reliable hydraulic performance.
10,000 m of Faserfix Super channels
Slightly less than 10,000 meters of 100, 150 and 200 mm wide Faserfix Super drainage channels were installed on the circuit. In line with the specification, the channels can be used as temporary cable conduits in the paddock area and alongside the pit lane. The cast grates are fixed using the Side-Lock rapid fastening system to enable quick and easy cable laying and removal in the channels. This system eliminates the need for time-consuming bolting and loosening.
"The ingenious Side-Lock system is very reliable and makes the products exceedingly versatile to cater to the varying requirements in the individual areas. While the covers need to be removed very quickly in the paddock area, they were additionally fixed by eight bolts per meter on the circuit. This solution protects the covers against the enormous suction forces generated by the racing cars at peak velocities," adds Tilke project manager Arite Hirsch.
The "Moscow Raceway" was inspected and approved by the Fédération Internationale de l'Automobile (FIA), the Paris-based Institute for Motorsports Safety. The circuit passed this "test" with flying colors; it was classified as "Grade 2+1T" and "Grade B" for motorcycle racing. The "Moscow Raceway" meets the requirements for an international Formula 1 test track.