CERIB
Expertise & Construction Day once again a big success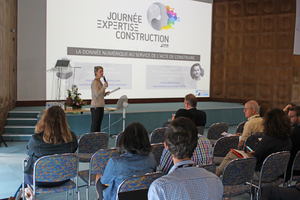 Figure: BFT International
The "Expertise and Construction Day 2018" included four lectures, ...
Figure: BFT International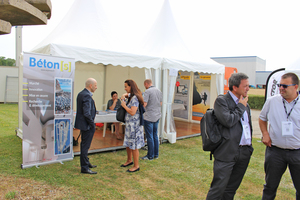 Figure: BFT International
... an exhibition of the supply industry, science, and media, including the information booth of BFT International, ...
Figure: BFT International
The "Expertise and Construction Day" is becoming more and more a central meeting point of the French precast concrete industry, this was also clearly obvious at the fourth edition held on July 05, 2018. The "Study and Research Center of the Concrete Industry" (Cerib; Centre d'etudes et de recherches de l'industrie du béton) reported a huge number of exhibitors, that has increased once again to an impressive figure of 49 in the meantime; they above all came from the supply industry as well as from the world of science and the media. Among them are internationally well-known names such as Quadra, BASF, Schöck, Mapei, Ecoratio, Assyx, Teka, Bikotronic, Omya, Kniele or IAB Weimar. As media partner, the BFT International trade magazine was also represented with an own booth this year.
Because of the large interest on the part of the exhibitors, Cerib had once again installed a large event tent with several wings in addition to the many small exhibition tents at the parking lot of the institute. They provided sufficient space for the majority of exhibitors; inside the tent lectures were announced and roundtable discussions took place on the large stage.
Lectures, round tables and walking-tours
So far, Cerib has not published official visitor numbers, but probably between 400 and 500 professionals of the construction and supply industries, from research and the media again might have come to Épernon near Paris this year.
The lecture program took place in a lecture hall of the institute building next to the event tent. This year, four lectures were held on current research topics of the institute, with subsequent roundtable discussions.
The "Expertise and Construction Day 2018" was completed by walking-tours through the research center on the spacious campus of Cerib; among other things, the scientists of the institute presented their findings on the subject of "La ville prerméable – the permeable town" (permeable pavement in inner-city areas). Just as the previous year, a multi-media exhibition on the history of the development of concrete and the concrete technology from the very beginnings to the present day was a big crowd-puller.