Holcim (Schweiz) AG
Concrete as versatile building material in material cycles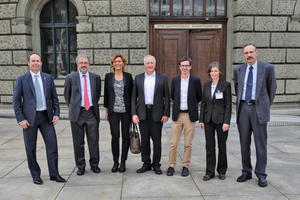 Figure: Holcim Schweiz
The speakers (from left to right): Peter Wellauer, Holcim (Schweiz) AG, Prof. Thomas Vogel, ETH Zurich, Dr. Carola Edvardsen, Cowi A/S, Denmark, Bernhard Zindel, Logbau AG, Maienfeld, Prof. Dr. Guillaume Habert, ETH Zurich, Kerstin Wassmann, Holcim (Schweiz) AG, Dr. Peter Kunz, Eberhard Bau AG, Kloten
Figure: Holcim Schweiz
Holcim (Schweiz) AG has been organizing the concrete conference at ETA Zurich for twenty years now. Therefore, this year's conference attended by more than 230 visitors was characterized by the anniversary, providing professional lectures from research and practice.
In view of an increasing shortage of resources, which meanwhile even affects materials that seem to be quite ordinary as sand and gravel, recycling of concrete components used up in building becomes more and more imperative.
Cement developed from recycled fine fractions
In order to eliminate objections, to improve the quality of...