Lanxess AG
Colored Concrete Works Award for Chipperfield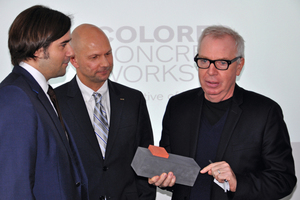 Photos (3): BFT INTERNATIONAL
The spokesman for constructional issues of the parliamentary group of the German Liberal Democrats, Dipl.-Ing. Sebastian Körber, and Jörg Hellwig, Head of the Inorganic Pigments business unit at Lanxess presenting the award to David Chipperfield
Photos (3): BFT INTERNATIONAL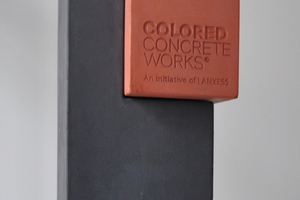 Photo: BFT INTERNATIONAL
Colored concrete - the Colored Concrete Works Award
Photo: BFT INTERNATIONAL
Henceforth, the specialty chemicals group Lanxess intends to reward architects, who have especially encouraged the use of color in concrete buildings, with the Colored Concrete Works Award once a year. On November 20, the 2012 Colored Concrete Works Award went to the architect David Chipperfield for his project "Ciutat de la Justícia" in Barcelona. The jury, comprising pigment and marketing experts of the business unit Inorganic Pigments (IPG) of Lanxess, decided in favor of the building because of its wealth of colors, its functionality and importance.
The awards ceremony took place at the group's representation in Berlin. The trophy made of colored concrete was presented by the spokesman for constructional issues of the parliamentary group of the German Liberal Democrats, Dipl-Ing. Sebastian Körber, MP, and Jörg Hellwig, Head of the Inorganic Pigments business unit at Lanxess. "David Chipperfield Architects in cooperation with B720 Arquitectos have created an architectural still life of building structures that is functional and sensational at the same time. The thoroughly colored concrete used for the façade provides every building unit a certain individuality and softens the stern visual appearance," Hellwig stated in his laudatory speech.
Chipperfield expressed his gratitude for the award and emphasized in his speech how important colored design had become in architecture and infrastructure. "Colored concrete perfectly matches in combination with various materials and allows the integration of modern buildings in a wide variety of environments and natural space," he commented. "Why do we assume that concrete always has to be gray, is a question addressed to us as architects," said Chipperfield.