FBF BETONDIENST
BetonTage 2019: "Instigating change while success lasts"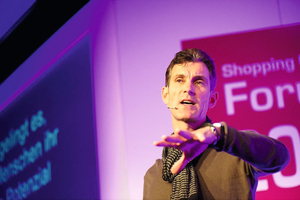 Figure: Förster & Kreuz GmbH
Dr. Peter Kreuz, SPIEGEL bestselling author and former management professor, argues in favor of lateral thinking and questioning of habits in companies
Figure: Förster & Kreuz GmbH
Dr. Peter Kreuz is a businessman, SPIEGEL bestselling author and founder of the initiative "Rebels at Work". Nobody could talk about innovation, new perspectives and breaking with dusty conventions better than Kreuz. The "Financial Times" magazine compares the doctorate in social sciences and economics and former management professor of the Vienna University of Economics and Business with a match that ignites others.
The 63rd BetonTage congress was able to gain Dr. Kreuz as keynote speaker. BFT International has already asked him some questions in the run-up to the congress.
BFT International: "Instigating change while success lasts" this is the title of your keynote speech at the 63rd BetonTage congress on 19th February 2019. What can the participants look forward to?
Peter Kreuz: I would like to encourage the participants learning to forget. That might sound paradoxical, but the ability to forget, to lay things, once learned, aside again, becomes more and more a crucial factor of success in our business world. And I see it again and again in the companies I am working with: The biggest problem is not to persuade people to accept new ideas but to forget old ones. People still have the concept in mind: "Though it still works. Why shall we chance anything, why shall we question the formulas for success today, that were still yielding fruits yesterday?" However, we have to do this exactly.
To be successful in the long term means to dare something new already at the peak of success, and also to want the new even though it is not certain whether it will be as successful as the old one.
BFT International: Are the traditional, the conventional things really so bad?
Peter Kreuz: No, not at all. It always becomes problematic, when behavior patterns which have worked so far and have accounted for the success of the company, become sacred cows. The willingness to question traditional convictions, to attack conventional patterns of success, to take intellectual straitjackets off and to overcome conceptual boundaries, must become a matter of course a good deal more.
BFT International: How can this be boosted?
Peter Kreuz: We must tolerate much more mavericks and critical minds in our companies. A wealth of variety, not uniformity, is the basis for success.
BFT International: Nonconformists, mavericks and critical minds have one thing in common. They do not want to adapt, but want to effect change. Why should one give someone like that a job?
Peter Kreuz: The problem is obvious: First of all, you have to be able to endure people like that. They are people with rough edges, who are persistently questioning things and are not satisfied with a simple NO. It is exhausting and many companies even do not want to deal with it at all. Therefore, people who question the status quo are often as popular as chain smokers in open-plan offices. Experienced insanity squared is the fact that many companies demand inventiveness from their employees, but do really reward adaptation.
BFT International: What can bosses do so that this way of thinking and acting is likely to increase even more?
Peter Kreuz: The management mastermind, Peter Drucker, once expressed it in this way: '90% of what we call management means standing in the way of the own employees.' This is the problem of many executive managers. They do not consider their job in creating the necessary conditions which are required to unleash such a way of thinking and acting.
BFT International: What aspects should bosses pay more attention to in the leadership of their staff in future?
Peter Kreuz: Restrictive rules and regulations educate people to become rule-followers. This would already be a good approach for leadership work: Which rules can we omit? Which process can we radically simplify? Which forms can we completely eliminate? Tidying up, clearing out radically, airing out mentally! Cleaning everything out of the way that annoys the employees and that stops them from doing their work in a focused and committed manner.
BFT International: How can we tackle this in concrete terms?
Peter Kreuz: One of my customers organizes a competition for employees called "Kill a Stupid Rule". The approach is very clever: The staff members are asked to identify superfluous rules, useless processes, meetings without significant value and to suggest a way of how they could do without them. This initiates a detoxification of bureaucracy that works wonders. In my opinion, this is exemplary.
BFT International: Is there a sentence accurately describing you?
Peter Kreuz: "Picturesque and cheeky, he argues in favor of thinking differently and bringing courage, fun and passion back to everyday business life," the "Manger Magazin" journal once wrote about me. I think that is pretty well true.