Cathay Industries
"All signs still pointing to growth"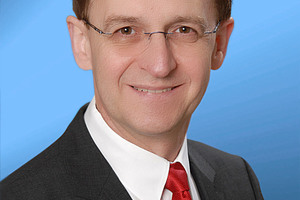 Figure: Cathay
Axel Schneider has been responsible for the European business at Cathay Industries with focus on iron oxide pigments since 2010
Figure: Cathay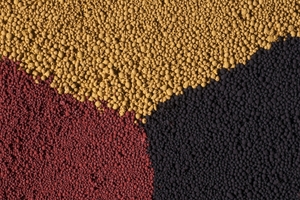 Figure: Cathay
"Cathaygran" iron oxide pigments for the construction industry are among the most important products
Figure: Cathay
In a conversation with the BFT editor, held on the premises of Presigno GmbH, CEO Axel Schneider comments on the strategic orientation of Cathay Industries, important milestones and the company's success as well as current trends.
In a conversation with the BFT editor, held on the premises of Presigno GmbH, Dortmund/Germany, CEO Axel Schneider comments on the strategic orientation of Cathay Industries, important milestones and the company's success as well as current trends.
BFT International: Mr. Schneider, about two years ago, your company published a press release on globally growing and changing iron oxide pigment markets. How far did these forecasts come true and how did Cathay Industries respond to these trends?
Axel Schneider: It was even for us surprising, how precisely our forecasts came true. The end of the crisis in Europe was indeed foreseeable and the willingness to invest returned to normal relatively fast. The market got more dynamic with the growing demand for iron oxide pigments. Cathay Industries was prepared to the situation and is well positioned today accordingly: by intensifying our services, the expansion of the product portfolio, an increase in capacities and by recruiting of new personnel. From our point of view, the signs continue to point to growth.
BFT International: It is not only since the award of the EcoVadis silver certificate that Cathay Industries ranks above industry average in respect of environment and fair business practices. Can you share any other success stories with us?
Axel Schneider: Talking about the EcoVadis certificate, we are of course aiming at the gold status. Being already certified according to ISO 9001 and 14001, we have finally obtained the certification according to ISO 18001, too. Hence, the auditors of the company SGS, an internationally recognized certification body, has given us top grades in terms of our occupational health and safety management system, too. Furthermore, apart from the concrete industry, a successful project in the paint industry is worth mentioning as an example a particularly environmentally friendly binder was developed there. We now combine this with our pigments from the subsidiary Hoover Color, which are produced using a process relieving the environment.
BFT International: In the above-mentioned press release it was written, among others, that Cathay Industries is active in Europe, the USA, China, and Australia with own production facilities. Are these also the markets that are of particular interest to your company?
Axel Schneider: In principle, we are aiming at a global orientation with a likewise global sales structure, and besides, you already mentioned some important regions in your question. The markets are currently developing particularly dynamically in Europe and Central Africa, to give two concrete examples. In this regard, we focus on demanding applications, whether it is Cathaygran for the construction industry or Cathaypure for the cosmetics industries.
BFT International: Speaking of Cathaygran: On the occasion of Bauma 2016, you attracted great attention by a customer event, where you presented the spray-dried granules of the new Cathaygran range to the broad public. How has the demand developed since then, and which other product lines are even more in the spotlight, in your opinion?
Axel Schneider: Actually, the main focus is on spray-dried granules, for which we have already developed a huge range of more than 25 colors. The market launch is also progressing well because even in quite traditional sectors of industry more and more manufacturers change from liquid and powder pigments to granules. As far as innovations are concerned, Cathayred and Cathaytherm are worth to mention anyhow, apart from Cathaygran. The market is growing for us, but also because Cathay Industries comes up with new products regularly, above all in the construction industry. This includes traffic safety concepts through coloration of traffic areas as well as the introduction of innovative packaging products such as our water-soluble bags, which attract remarkable interest.
BFT International: What is characteristic for the pigment granules in particular, or differently asked, why should manufacturers of concrete products and precast concrete elements use right these pigments for the coloring of their products?
Axel Schneider: Here, I can give you even several positive characteristics: For one thing, our Cathaygran products score with high storage stability, flowability and low dust-formation; moreover, they convince by an ease of handling and accurate dosing on virtually any system. The fact that these pigment granules more easily disperse in the mix of cement and aggregates than many other materials, should also be noted.
BFT International: Does Cathay Industries offer their customers other services apart from the actual color pigment products, for example, object-specific, individual support and advice?
Axel Schneider: In fact we have recruited experienced Mr. Jörg Petri as Sales Director Construction Europe in order to be in the position to provide exactly such service. Because it is nowadays hardly possible to conclude a major order without professional advice and as we would like to offer our customers a comprehensive carefree package, we have adapted our service portfolio accordingly. In addition to this, we offer models for the financing of dosing systems, even if many customers prefer to finance themselves today. However, we do not build our own devices, but leave this to the specialists.
BFT International: One final question, if you don't mind: "Which milestones in the company history would you consider to be particularly important, in retrospect?
Axel Schneider (smiling): Here, I could quote a whole list again, but most probably the time planned for the interview might not allow this. Therefore, I would only like to mention the most outstanding highlights here, starting from the company foundation in 1979, to the successful global expansion – associated with the change of name into Cathay Industries at the end of 1990s – through to the capacity expansion of pigment finishing in Yixing and the production of spray-dried granules in Tongling in the years of 2014/2015.
Interview: Dipl.-Ing. (FH) Silvio Schade