FBF Betondienst
59th Beton Tage: Practice in Focus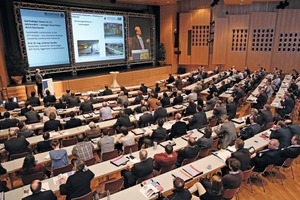 Figure: Photodesign Buhl
BetonTage represents pure communication and knowledge exchange, whether in the auditorium ...
Figure: Photodesign Buhl
A high-caliber program, prominent speakers and collegial networking have from the very beginning characterized BetonTage in Neu-Ulm, Germany, Europe's largest specialized congress for the concrete and precast concrete industry. From 24 to 26 February 2015 the congress will be held for the 59th time.
For the coming year, the congress organizers are given top priority to even greater practical orientation and have accordingly included a second Practical Workshop, with lectures and pragmatic presentations in the program for the areas of concrete block pavers and slabs. "We would like to address our core target group, the manufacturers of precast products, more intensively and provide them with solutions for their day-to-day work," emphasizes Dr. ­Ulrich Lotz, Managing Director of FBF Beton­dienst GmbH.
Essential food for thought will also be provided by the plenary events and product-specific panel discussions with information on current developments in the areas of stan-dardization, concrete technology and production processes of relevance to our industrial segment. The innovation podium "Potentials of concrete components of tomorrow" on the third day of the congress will be a new event.
Interdisciplinary exchange of knowledge
Economic and legal lectures are on the agenda as well. Interdisciplinary exchange between engineers, architects and manufacturing companies will be provided in podium events specifically organized for this group of participants. Belgium, as guest country, a pioneering country for precast construction, will give insights into its domestic industry.
Keynote speaker is Dr. Daniele Ganser, Director of SIPER Swiss Institute for Peace and Energy Research in Basel. Dr. Ganzer, the charismatic Swiss historian, as well as energy and peace researcher, will present insights into the global strategic war over fossil resources and the potential of renewable energies.
The congress will be accompanied by an exhibition of all important representatives of the machine, software and supplier industries. The best innovations will once again be awarded the Innovation Prize of the supplier industry for structural concrete components that is awarded jointly by the company FBF Betondienst GmbH and the technical journal BFT International.
More information on the program can be obtained directly from the organizers.