Interview: Innovation with potential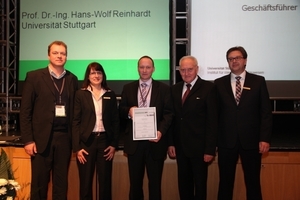 Photo: photodesign buhl
At the award ceremony (from left to right): Christoph Schulte (Editor in chief, BFT International), Stefanie Blank (Head of Organization, FBF Betondienst GmbH), winner Roy Thyroff (Managing director, V. Fraas Solutions in Textile GmbH), Prof. Dr.-Ing. Hans-Wolf Reinhardt (Chairman of the jury), Dr. Ulrich Lotz (Managing director, FBF Betondienst GmbH)


Photo: photodesign buhl
At this year's BetonTage congress in Neu-Ulm, V. Fraas Solutions in Textile was awarded the 2012 Innovation Prize for Structural Concrete Products of the Supplier Industry. The company received this award for its SITgrid textile reinforcement (see BFT International 02/2012, 250-251). In this interview, managing director Roy Thyroff explains the development process and the benefits of this innovative product to BFT editor Christian Jahn.
BFT International: Mr. Thyroff, let me congratulate you on having received the Innovation Prize.
R. T.: Thank you very much. When we got to know that we were the winners, I was brimming with joy, just like a child. We will utilize this award for our marketing efforts. Also, it's an outstanding motivation for our people, who recognize that we are successful in our new line of business.

BFT International: Previously, Fraas had manufactured textiles exclusively for the clothing industry. How did the idea take shape to also become a supplier to the precast industry?
R. T.: This was a deliberate decision. As a business, V. Fraas has attained a very good position. To make this success last as long as possible even in the face of increasing competition, the shareholders decided, in 2008, to set up a new line of business for technical textiles, as the second mainstay activity of the company.

BFT International: Who came up with the idea of developing a textile reinforcement with a 3D structure?
R. T.: The 3D structure idea stems from the doctoral thesis submitted by Andreas Roye, of the RWTH Aachen. And Liba, the equipment manufacturer, developed a system suitable for producing the 3D textiles.
Then we developed and delivered the first prototypes. Our customers carried out their pilot tests and found that the 3D textile reinforcements worked very well. One of the first major projects was realized by Hering Bau just recently: they installed facade panels with a 3D textile reinforcement on the building of the Institute of Construction Engineering at Dresden University of Technology.
BFT International: What are the key features of the SITgrid textile reinforcement?
R. T.: In general, textile reinforcements are highly resistant to corrosion, which makes it possible to insert them near the concrete surface and to produce very thin-walled precast elements. Our 3D textiles consist of two textile layers arranged at 4 to 28 mm spacings; they provide the additional benefit that they can be processed more efficiently. Two reinforcing layers can be inserted in a single work step – double the amount compared to a two-dimensional textile material. Another advantage is that we manufacture the reinforcement as panels in accordance with customer specifications. By contrast, the 2D reinforcements currently used in the industry are supplied on coils. If you take the reinforcement off the coil, however, it retains a certain bend, and will never lie completely flat in the formwork, unlike our panels.
BFT International: What sales does your technical textiles business currently generate?
R. T.: Our sales are not yet particularly significant. I think that it will take another six months or even a year until the business finally takes off. But of course, we have done our market research. There is a sales potential of several million square meters when looking at the areas of reinforcement technology, strengthening and bracing as a whole.
V. Fraas Solutions in Textile GmbH
V. Fraas Solutions in Textile GmbH is a spin-off of the textile manufacturer V. Fraas, which was established in 1880 and generated sales of about €70 million in 2011, employing 600 people in Germany, the Czech Republic, the United States and China, among other countries. In 2008, the shareholders of V. Fraas decided to develop a second line of business. In February 2012, V. Fraas Solutions in Textile GmbH was entered in the commercial register. Its managing directors are Alexander Schmidt, one of the shareholders, and Roy Thyroff. The new entity is producing technical textiles for the construction and automotive sectors, aviation and space, and other industries. Amongst other applications, the textiles are used for reinforcement, strengthening and insulation purposes.
CONTACT
V. Fraas Solutions in Textile GmbH
Orter Str. 6
95233 Helmbrechts, Germany
+49 9252 7030
sit@fraas.com
www.solutions-in-textile.com