New clinical center in Stuttgart
Connecting new to old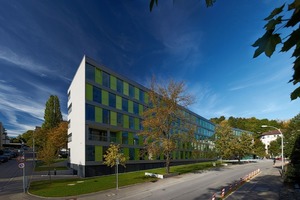 [Photos: StekoX GmbH, Magstadt]
Fig. 1
The general contractor, the consortium Klinikum Stuttgart, charged the engineering firm Wayss & Freytag with the technical management. Wolff & Müller Ingenieurbau took on the commercial management.
[Photos: StekoX GmbH, Magstadt]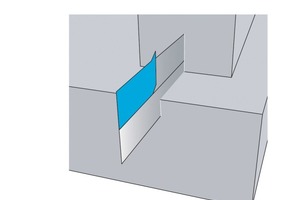 Fig. 2
The metal waterstop AquaproofX
®
1 serves to seal all kinds of construction joints and designed crack joints typical in building construction. The polymer coating bonding with the concrete provides for a waterproof joint.
Klinikum Stuttgart having a capacity of more than 2,300 regular hospital beds and day-care treatments represents about 40% of the hospital beds available in the capital of the state Baden-Württemberg. The clinical center is one of the largest and most efficient health care centers in Germany.

The medical specialists of the four associated hospitals (Bürgerhospital, Katharinen Hospital, Bad Cannstatt Hospital, Olga Hospital) cover the full range of modern high-performance medicine. Owing to the restructuring and expansion, the so far four locations shall be concentrated on Stuttgart-Mitte and Stuttgart-Bad Cannstatt. The Bürgerhospital and the Olga Hospital will be closed.
40,000 m² of new floor space
The aim is to convert Klinikum Stuttgart into the most attractive and most efficient health care company of the region by 2015. The extensive building project is likewise the largest...