Techmatik
10th anniversary is just around the corner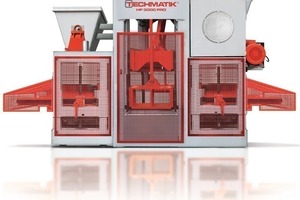 Figure: Techmatik
The HP 3000 Pro concrete block machine is just one of several new develop­ments
Figure: Techmatik
October 24, 2014 will be an important event of the industry market – the 10th Anniversary of Techmatik SA. This day the Polish company expects guests connected with concrete industry from all over the world, from more than 50 countries, from almost all continents to see novelties like the concrete block machines HP 3000 Pro and SHP 5000 Pro C working simultaneously, the Multi 200 – egg-layer machine to produce concrete blocks with polystyrene inserts or the latest generation textured moulds with heating system, as well as many other novelties.
Leader in the field of concrete product manufacturing
The Techmatik Factory is a company with approx. 500 employees, located in Radom, in the central part of Poland. The company was established in 2004, in the Radom Tarnobrzeskie Zone of the Special Economic Area. The company specializes in the production of high-performance machines, devices and moulds for the manufacture of construction products, which guarantee high performance, manufacturing repeatability, and in consequence, the high quality of the products. Every machine and device is automated and controlled by an integrated computer system.
The state-of-the-art machine pool guarantees the highest quality of service. Machines, devices and moulds manufactured by the company are adapted for high-performance work on steel production pallets, and thus can achieve the best possible parameters for the manufactured products through highest possible compaction, and lower production costs through decreased usage of cement.
Techmatik constantly modernizes its offering through continuous introduction of new products. The machines undergo rigorous testing in the Radom R&D facility before being handed off to the customer.