Perfect Pipe
The sewerage pipe system that stands the test of time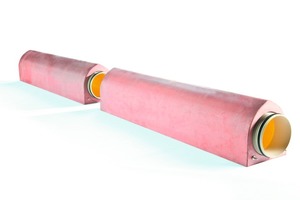 Fig. 1
The polyethylene liner can withstand strong chemical attacks and the special cross section provides an optimal load-bearing.
At bauma 2010 Schlüsselbauer showcased the latest development in waste water pipes – Perfect Pipe. This pipe construction system for waste water and sanitary sewer systems now combines the product benefits of robust concrete pipes and durable synthetic liners.

The Perfect Pipe system offers new possibilities in sewer conveyance, combining the requirements in terms of static strength and resistance in the event of increased chemical attack with the economic benefits of production, installation and operation. The manufacture of a durable connection of liners made of polyethylene and pipes made of high-strength concrete in an economical production process fulfils the essential demands on pipes for effluent disposal.
Perfect Pipe provides an ideal load bearing through the specially designed pipe cross section. Compared to flexible pipe systems, there is...