LPI Symposium 2009
The art of making concrete better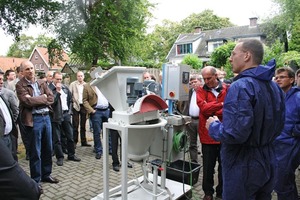 Fig. 1
The subsequent demonstration with the cone shaped laboratory mixer of Kniele was very informative for the entire audience.
At the beginning of September, the 14th LPI Symposium took place in the Dutch city of Ede. On the topic of "concrete manufacturing" the organizer, LPI-Link Promotions International, had asked to come to the Benelux country.

Alexander Eijsink, once again initiated and organized a meeting for the precast concrete industry with the collaboration of numerous companies of this sector. There were 170 registrations for the conference day with guests coming from Germany, The Netherlands, Belgium, Austria and France. Language of the lectures held was German with the respective Dutch translation.
Under the motto "The Art of Making Concrete Better" he succeeded in getting six lecturers who commented on various topics in the field of concrete manufacturing. The initial contribution was presented by Christian Baumert (TU...