Conveying of aggregates
Successful start of three double belt conveyors of the new generation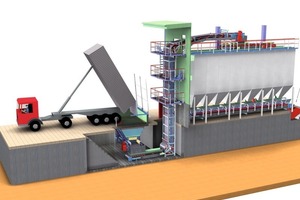 Fig. 1
Gilne GmbH: accessible discharge bunker, double belt conveyor, silo arrangement, weighing conveyor.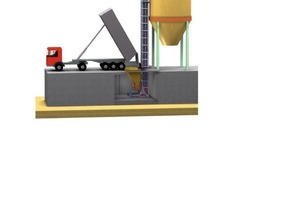 Fig. 2
TCR: bucket conveyor system replaced by double belt conveyor, rotary distributor, multi-chamber silo
The VHV double belt conveyor is distinguished by pure-grade conveying of most different types of aggregates just requiring briefest space. The newly developed VHV modular system for steep conveyors above all is becoming increasingly popular.
Company Gilne located in Mettingen (Germany) got a truck discharge bunker with ground level access feeding a VHV double belt conveyor by means of a discharge conveyor. This conveyor discharges the material at first in horizontal direction and then deflects the same through the patent protected flexi drum in vertical direction. The flexi drum simultaneously serves as deflection for the cover belt and collects the material to be conveyed between conveyor belt and cover belt. In special cases, spiral springs allow the cover belt to immerge as far into the flexible drum so that the stream of...