SLG Concrete Association increases commitment for students
Economy meets science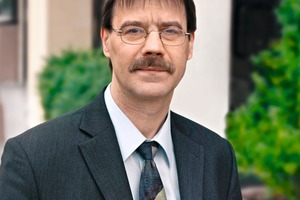 Photo: Betonverband SLG
Fig. 1
Dietmar Ulonska, Manager of SLG Concrete ­Association, will give the first guest lecture at TU Berlin on November 21.
Photo: Betonverband SLG

The SLG Concrete Association has agreed on an intensive collaboration with the Institute of Civil Engineering of TU Berlin. From November 2011, SLG representatives will give guest lectures in the field of concrete products.

At the faculty of construction materials and construction chemicals of the Institute of Civil Engineering of TU Berlin the teaching and research areas are being restructured at present. Chair of the faculty, Prof. Dr. Dietmar Stephan, intends to provide the prospective civil engineers with an even more comprehensive education of an even higher quality standard. As to be able to impart knowledge to the students with the utmost technical competence and a reasonable relation to practice during the deepening master's studies, Stephan has consciously chosen the support of external lecturers from...