Photocatalytic activity of cement-bound systems
Comparison of two test methods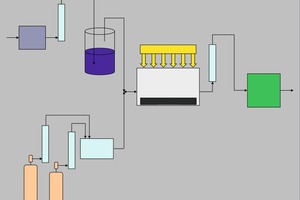 Fig. 2
Flow diagram of the experimental set-up based on UNI 11247.
Abb. 2
Fließschema des Versuchsaufbaus nach UNI 11247.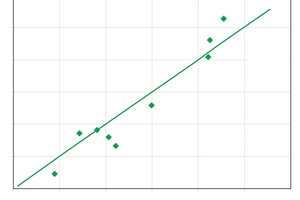 Fig. 3
NO
X
degradation rate in mg/m²h based on UNI 11247 vs. NO
X
degradation rate in mg/m²h based on ISO 22197.
Abb. 3
NO
X
Abbaurate in mg/m²h nach UNI 11247 vs. NO
X
Abbaurate in mg/m²h nach ISO 22197.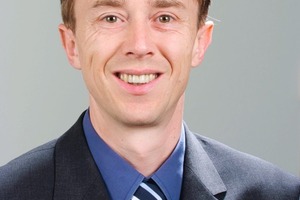  The development of innovative functions in concrete should be considered under the aspect of sustainability such as, for example, the reduction of air pollutants by means of photocatalytically effective concrete surfaces. Over the course of recent years, the interest in the use of photocatalyzers has exponentially increased. This can be seen alone from the enormous increase in patents and publications in this scope. In the field of measuring technology, however, there still exists an immense backlog of work.
Up to this day, no uniformly standardized measurement and materials standards are available. Laboratory-scale measuring methods for quantifying the photocatalytic activity of surfaces are available. The results they provide are, however, only conditionally comparable.

Titanium dioxide as photocatalyzer

Titanium dioxide, thanks to its high whitening and covering power, is the best known and most frequently used white pigment. It is used in lacquers, paints, plastics and paper.

One specially manufactured form of titanium dioxide has been known for some time as photocatalyzer. The construction...