UK Concrete Show
The most successful UKCS ever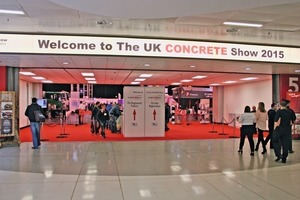 Figure: BFT International
According to the organizer, this year's UK Concrete Show was the most successful event ever
Figure: BFT International
More than 200 exhibitors and thousands of trade visitors paid their respect to the fifth anniversary of the UK Concrete Show held at the NEC Birmingham at the end of February.
According to the organizer, this year's exhibition was by far the most successful edition: The large number of exhibitors from Great Britain, Europe and overseas concluded business contracts worth more than 10 million British pounds or about 13.6 million euros.
The event was completed by a seminar program comprising 38 specialist presentations.
Largest European specialist concrete show
More than five years after the international economic crisis, there seems to be an opposite trend; positive signs can be noticed throughout the region. The companies are expanding, and one of the industrial sectors indicating most obviously a financial recovery is the construction industry. Investments are growing considerably due to the surge in the project-related business all over the world.
Trade shows and conferences belong to the most important and effective tools for companies offering their products and services or looking for such products and services today. These exhibitions bundle all aspects of the industry at one place, enabling companies to establish contacts fast and effectively, compare products easily and check the availability of new technologies.
The UK Concrete Show is such an event, being the largest European concrete show of the year, according to the organizers.
Satisfied suppliers
The major part of the supply sector operating in the region for the precast concrete industry was satisfied too. Several exhibitors unanimously stated that the trade show had been performing well and that it was a very important event for the business activities in Great Britain as well as in other regions.
"We can be more than satisfied with a growth rate of almost 50 % in the United Kingdom compared to the last Concrete Show," stated Mike Munro, International Sales Manager at Besser. Tom Goosey of Spiroll was similarly positive about the show: "At a domestic venue we indeed wanted to take the opportunity to present ourselves in the best light to customers and the trade audience."
Acoording to the representatives of the Danish suppliers of machinery and equipment, KVM and Haarup, the first day of the exhibition was particularly successful, and the British Isles are an important market. From other exhibitors' point of view, for example, from Germany, Italy, Poland, the trade show was also absolutely worth a visit: While Alfred Rochlus, General Manager of Assyx, and Manfred Stadtsholte, Sales Manager of CureTec, forecast further growth on the British market in the near future too, Gianluca Todeschini, Technical Sales Manager at Nordimpianti, was above all very pleased about the large number of contacts, including several specific inquiries. Mikolaj Pawlak, International Sales Director of Techmatik, stated that the northern and western European market gained momentum, in particular, in the context of the ten-year company anniversary.
The next UK Concrete Show will take place from February 17 to 18, 2016 at the National Event Center Birmingham.
Text: Dipl.-Ing. (FH) Silvio Schade