VOLLERT ANLAGENBAU
The Oschatz concrete plant banks on robot technology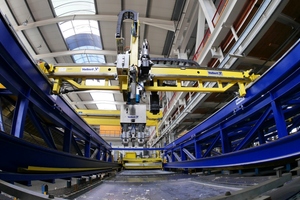 Figure: Vollert
The new Smart Set robot line also performs demolding – fully automated and with CAD-CAM control
Figure: Vollert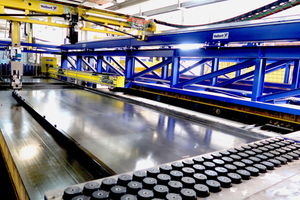 Figure: Vollert
The shuttering profiles are positioned at high traversing speed, and embedded parts such as magnets for electric outlets are set in place
Figure: Vollert
In modern architecture, shapes, colors and surfaces are becoming increasingly varied. At the same time, the capacities required for construction projects are increasing, and cost pressure is rising. Machine technology and precast concrete production must keep up with this trend. Modernization is also a keyword at Oschatz Concrete Plant.
The tradition-rooted Oschatz  precast plant has been supplying prestigious construction projects with high-quality precast concrete parts for more than 25 years. During this period, the plant, established in 1995, has been modernized and upgraded several times to the latest technology standards. "Robot technology increasingly changes the way we work. Manual processes are automated, resulting in continuously rising plant capacities," as Managing Director Birgit Zocher describes the processes involved. Oschatz is banking on the plant-engineering specialist Vollert as knowhow partner. Most recently, in 2012, new vacuum pallet turning equipment from Vollert was installed. In 2018 followed modernization of the formwork area as well as of the cleaning processes.
State-of-the art mechanical engineering, thought-through down to the smallest detail
 "Our highly efficient robot technology has been ensuring precision and clean, reliable processes since April," explains Markus Schenk, Marketing Project Manager at Vollert. The latest Smart Set robot line has been placed in charge of fully automated and CAD-CAM-controlled demolding, and of plotting the contours for production of slab elements and double walls. In a subsequent step, at high traversing speeds, shuttering elements of various lengths are positioned with high precision. Likewise, component parts such as magnets for electrical outlets are set in place, with up to four magnets positioned simultaneously. Modern laser and camera systems monitor this process.
Also newly installed was a Smart Store magazine robot, which places shuttering elements in interim storage in the storage magazine. "With this new robot technology and our automated processes, we can move 5 to 6 rotating pallets per hour through this work area," explains Birgit Zocher. "The individual robots, moreover, operate in separate safety areas so that work can continue even in the event of interference in one robot area." "This presented a special challenge, given the shortage of space available – because, apart from the restricted floor area, a working platform for preparing the reinforcement lies directly above in some areas. But we were also able to find an optimal solution for this challenge," concluded Markus Schenk.
A Smart Clean cleaning station was also newly installed
Furthermore newly installed was a Smart Clean station. Here, the Smart Set demolding robot takes up the shuttering profiles and places them on a roller conveyer on which they are moved to the formwork cleaner. Cleaning takes place in a conventional manner with disk and roller brushes.
Next follows application of release agent through spray nozzles. A pallet cleaner with rotating brushes and a steel scraper unit frees the surfaces from adhering concrete residues and adhesives. An integrated spray unit with rotating nozzles then automatically applies release agent to the sheet steel and the edge formwork as soon as the pallet travels into the work area.