Peikko Deutschland GmbH
Taunus Tower – with
precast concrete components quickly all the way up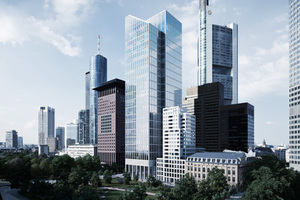 Photo: Kaiserkarree S.à.r. l.
The completed Taunus Tower will have a height of 170m.  The new skyscraper will have 40 stories and 60,000m² office space.
Photo: Kaiserkarree S.à.r. l.
The skyline of Frankfurt am Main is growing. Erection of the 170-m Taunus Tower is currently underway right in the heart of Frankfurt's financial district. The company Ed. Züblin AG, of Stuttgart, won the contract for construction of the building. To meet the deadline of 14 months allowed for completion of the unfinished building structure, with full observance of work and safety regulations and assurance of top quality, the company used precast concrete components manufactured and interconnected with products from Peikko® Deutschland GmbH, of Waldeck, Germany.
The joint-venture partners of Tishman Speyer and Commerz Real AG will complete the TaunusTower by the end of 2013. The office building, located at the corner of Neue Mainzer Strasse and Taunustor between the financial district and the historic city wall, will offer around 60,000 m2 of office space on 40 floors.
The foundation stone of the building was laid on 18 January 2012. The internationally active group Ed. Züblin AG has accepted responsibility for both the approval- and the construction-document phase, project coordination, and turn-key erection of the building.
Enhanced economic...