Gisoton
Standard house as refugee accommodation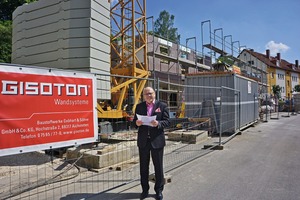 Figure: Kreisbau
In collaboration with partners, Wilfried Haut, Managing Director of Kreisbau, has developed a new standard house for the accommodation of refugees
Figure: Kreisbau
Wilfried Haut has meanwhile received inquiries from colleagues from all parts of the German state of Baden-Württemberg. They would like to find out how he is helping local authorities to accommodate an increasing number of refugees while at the same time creating sustainable living space. The key to success is a special standard house in modular building-block design which Kreisbaugesellschaft Heidenheim, of which Haut is Managing Director, has developed in collaboration with Memmingen-based design agency Weiß & Aksjuk and wall system manufacturer Gisoton based in Aichstetten.
The standard house developed by Kreisbau can be built with 10, 14 or 17 dwelling units and is adaptable to local conditions without having to forego functional floor plans. Thanks to the dense architecture, optimum use of space, and accommodation furnishings deliberately kept to basic standards, Kreisbau and its partners have succeeded in keeping the average costs per dwelling unit below the mark of 120,000 euros. "This is an unbeatable price. Compared to conventional multi-story apartment construction, we are saving between 80,000 and 100,000 euros per dwelling unit. And this is a must, because only then can these buildings be realized with economic efficiency," says Haut.
Optimum use of resources
The heat-insulating Gisoton wall system used in construction – which comprises the 30-cm thick block plus a 3-cm thick plaster coat applied on top in the cross-section – enables the standard house developed by Kreisbau to comply with the specifications of a KfW 55 efficiency house; the KfW supports construction of these houses by granting loans bearing exceptionally low interest rates.
The Kreisbau model focuses on an optimum use of resources, which has been implemented consistently with the standard house concept. On Barbarossastrasse 18 in Giengen, a new accommodation comprising 17 dwelling units is being built which will replace the former eight-family home. In Dischingen, Kreisbau is currently realizing ten dwelling units on a floor space of 750 m². "On plots like this, others build a single-family home," Haut illustrates the difference.