Max Europe
Rebar-Tier: increasing productivity, improving health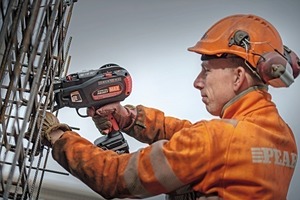 Figure: Max Europe
Skilled workers at precast plants confirm that tying with the Max Rebar-Tier puts only little strain on back and joints
Figure: Max Europe
Precast products are becoming increasingly popular in residential and commercial buildings, parking facilities, and roads and bridges. Such products go a long way to help reduce labor and shorten construction time on-site. In many precast plants, however, tying continues to be one of the major manual work steps despite the development of automatic rebar positioning and welding machines. Manual tying is associated with issues such as hand-arm fatigue due to continuous work, long tying times and metal wire chips. All these problems can lead to a continuous decrease in productivity.
Max Europe BV, based in Almere, Netherlands, offers a rebar tying tool called "Max ­Rebar-Tier" to all precast plants. The Max Rebar-Tier is a battery-operated rebar tying tool that replaces conventional, manual tying. One of the major advantages of this tool is the associated increase in productivity. All one needs to do is to pull the trigger of the Rebar-Tier, and the rebar will be tied perfectly in less than a second. This saves time and cost whilst improving productivity.
Three wraps and a knot
Furthermore, the Max Rebar-Tier can reduce the risk of health conditions such as carpal tunnel syndrome and back problems. Its light weight and ergonomic design leaves one hand free to position the rebar, which saves even more time. Use of the Max Rebar-Tier is greatly appreciated in a variety of precast applications, such as floor slabs, beams, columns and cages.
The Max Rebar-Tier range includes four product series: RB217-N, RB397-N, RB517-N, and RB655. The most appropriate product can be selected depending on the required rebar dimensions. The RB397-N model is most widely used at precast plants; its tying options range from 10 mm x 10 mm to 16 mm x 19 mm rebar combinations. The tool is suitable for fitting regular rebar size combinations, but can also fit rebar and triangle spacers. The RB397-N makes three wraps and a "knot" to fix the rebar. Internal test results obtained by Max show that the tightness achieved in this process is equivalent to that of conventional rebar tying and regular manual tying. The lithium-ion battery enables 2,000 ties per charge. The body is made from hardened plastic containing 30 % of glass fiber to help keep up the work even in this demanding working environment.
Daily maintenance is easy: removing the metal dust generated by the wire makes it possible to use the tool continuously. For this purpose, air is blown through the feeding gear, nose part and two holes on both sides.
"Quicker than tying by hand"
Max Tie Wire is the wire cartridge of the Max Rebar-Tier. The "Max Tie Wire" TW898 (w 0.8 mm) and TW1525 (w 1.5 mm) series are perfect consumables for the Max Rebar-Tier to ensure perfect, continuous tying. Both series are available in several types of wire: bare, electric galvanized (EG) and poly-coated (PC). In addition, the TW898 uses stainless-steel wire (SUS314 grade). Wires can be selected depending on specific product requirements, regulations and applications.
Dennert Massivhaus GmbH, a member of the Dennert Group, supplies various prefabricated house systems and a comprehensive range of building and insulating products. This company has been using the Rebar-Tier since 2006. Since then, manual tying work has been minimized.
"The rebar tying tool from Max is easy to operate and quicker than tying by hand. This way you can save up to 30 % of your time – and much more with very simple geometries. Although you can't execute every connection with the device, we are basically satisfied with this working aid", states Uwe Freimann, a skilled worker at the reinforcement station.
"The investment in the Max devices does pay off. It is not only the greater work effectiveness but also the improved working comfort and, particularly, the ergonomics in the ­daily handling of these tools that are convincing," says Bernd Schwarz, Production Manager at ­Dennert Group.
Max Europe at "Betontage 2015"
In 2015, Max is celebrating the 20th anniversary of the Max Rebar-Tier. Max is pleased about the daily use of the product by many customers and their comprehensive support. As a sign of its appreciation, the company sends little gifts to potential customers. Potential customers can send their contact information via email and will receive a gift.
Max Europe will present its product lines at Stand 74 at the leading exhibition and conference for the European precast industry, the "BetonTage" congress, which will again be held in the German city of Neu-Ulm from 24 to 26 February 2015.