Herrenknecht Formwork/VMT
Quality management for the Koralm Tunnel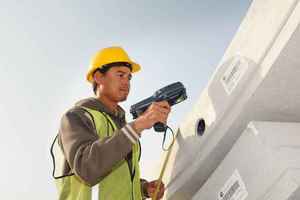 Figure: Herrenknecht Formwork
SDS links the individual steps of modern tubbing segment production from the fabrication to the installation
Figure: Herrenknecht Formwork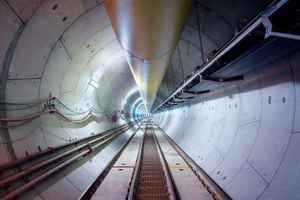 Figure: Herrenknecht Formwork
SDS was already used with success, among others, in the STEP project in Abu Dhabi
Figure: Herrenknecht Formwork
According to the information given by the provider, the "Segment Documentation System" (SDS), developed by VMT GmbH and used by Herrenknecht Formwork Technology GmbH , improves the quality management of modern tubbing segment production significantly. For optimizing check and control, the SDS program links the individual production sequences to a comprehensible process chain. Data recording and management already start when manufacturing the tubbing segments in the on-site factory or at the precast concrete plant, accompany all routes of transportation and re-handling points and end in a documented installation of the segments by means of the tunnel boring machine.
Example Koralm Tunnel
After SDS was successfully used with positive experience in the projects STEP in Abu Dhabi and the Prague Metro in the Czech Republic, the construction of the 32,8 m long Koralm Tunnel in Austria is a special challenge now.
The joint project of ÖBB Infrastructure undertaken by Strabag AG and Jäger Bau has been started in January 2011, with continuous tunnel works beginning in November 2012. In two facilities, ARGE KAT2 produced 120,750 precast elements with a fresh concrete volume of more than 420,000 m³ - including 103,500 tubbing segments with single weights of 8 tons each and 17,500 floor segments of 13.5 tons each - for the 17,1 km long south tube and the 15.6 km long north tube. The tubbing thickness is 350 mm at an outside diameter of 9.5 m.
Herrenknecht Formwork Technology GmbH, Schwanau (Germany) supported the project essentially providing a total of 16 sets of segment molds, 2 tubbing segment carousel systems including concrete distribution system, curing tunnel, heating system and vacuum lifter with 90° rotating device as well as finishing line including gasket gluing frame, tilting table and mechanical clamp and the entire SDS module series.
Modular structure
Comprehensive data recording from the production to the installation is the basis for later data analysis, thus enabling surveillance and control of the production process, the data storage as well as data statistics for an extensive control of costs and quantities. According to the customer's requirements, for example, the following steps and activities are documented and evaluated: reinforcement production, checking of mold/reinforcement cage, concreting, time and temperature of curing, time of demolding as well as placing into and removing from storage. During recording, the data are evaluated by means of queries stored in the system, thus avoiding possible production faults at a very early stage.
The SDS program has a modular structure, in order to meet all customer requirements and project conditions. This allows the user to choose several additional modules for reinforcement production, stock management, etc. beside the module SDS.production for the basic requirements in tubbing segment production.
Stationary production and carousel system
SDS can be used for both stationary production and carousel system. The data are captured by means of scanners at previously defined positions in the production and storage process. Supplementary data are captured by different interfaces such as concrete production, heating, or control of the carousel system, etc. For later evaluation, the data recorded are allocated to the respective tubbing segment's dataset with the aid of an explicit identification number. Data capturing and evaluation aim at recording data for quality assurance and issuing of various reports as well as comparing the target with actual quantities for cost control, inventory control and production planning and scheduling.