Tuesday, 16th November → New business opportunities (1)
Policymaking by competition on sustainability parameters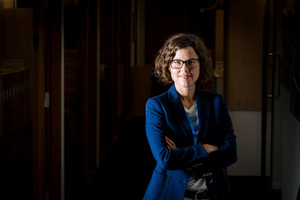 Malin Löfsjögård
Director of Svensk Betong - Swedish Precast Concrete Federation. Doctorate in technology and has previously worked at the Cement and Concrete Institute and as a unit manager at the Stockholm City Traffic Office. Malin Birgitta Löfsjögård has been Chairman of the Board of the Swedish Road and Transport Research Institute (VTI) since 1 July 2013 . She has also been an adjunct professor (20%) at KTH in concrete construction with a focus on production and civil engineering since 1 January 2016.
Europe is transforming rapidly, from traditional to value-based competition. How does that affect the playground? Are the competition parameters still fair, transparent, and based on knowledge? How does it affect innovation, improvement, and development when policymakers are left to believe that marketing and perception represents facts? Maybe we can find some answers in ourselves, realizing that innovation and development alone is less than it could be.
On a known (traditional) business playfield we expect transactions to be based on economic, technical, and functional parameters. It reflects a recognition of fair competition, where the production and supply chain respond to the market demand in a known and predictable pattern. However, the market may surprise the value chain by introducing revised ambitions and expectations. This change may create friction, the degree of friction varies with the supply chain's ability to detect and acknowledge the change process. The change process as phenomena is known, but not its content. It operates beyond the limits of science as we know it, therefore change and the following friction needs to be understood in another framework. This may also (partly) explain why the pace of technical development is exponential, but the adaption is closer to linear in the production and value chain. The friction may create more disturbance than necessary when there is a lack of understanding change, especially when change is recognized as a threat. 
Change is constant, but the nature and speed of it may strike you with surprise. When you work with reducing the number of uncertainties, you are generating new strategies and may also realizes that you need to look beyond the limitations yesterday's beliefs creates. In a situation where the policy process is influenced by the perception of things, more than the properties of things, we are dealing with values, beliefs and deep core perception of properties, performance, and impact.
The imminent threat against our living environment is acute, it prescribes a policy process with an huge amount of change with unknown content. This uncertainty may partly explain the growth of a value-based policy process, where perceptions and beilefs not necessarily find its support in science, it may even be an intended development where strong actors influences change. But it may also be a consequence of our (as society) inability to quantify/measure the phenomena we want influence.
In the process of realizing that we (the product and supply chain) need to focus on policy process in developing a sustainable future for our industry, we may pay attention to the meaning of values and beliefs in decision making. This means to reflect over and recontextualize our experiences and perceptions of our own communication when we interact with decisionmakers and policy process stakeholders. In this process we may realize that our core beliefs, that we want to convey, needs to be adjusted to something that politics can be developed further from. It may not cover all your ambitions. Just enough to move change slightly in direction of what your core beliefs and values tells you, and from what policy makers may adopt and develop further.
The speech is a reflection over a change process. Where traditional federations transform from a consultant for member companies, to a strategic actor who contributes to a policy process that supports fair competition in a sustainable construction industry.