Peikko
New column connection for seismic-proof construction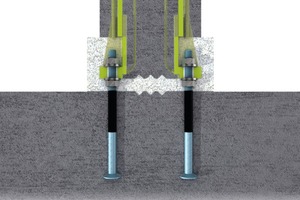 Figure: Peikko
A totally new concept, seismic-proof bolted column connection of Peikko can lead to substantial savings both in building process and in concrete usage
Figure: Peikko
Early precast designs showed less than perfect earthquake performance. Common reasons for the failures were inadequate detailing, poor workmanship and lack of continuity or redundancy in the structure. Further, there weren't any design guidelines for precast concrete structures used in seismic areas.
So far, engineers have favored cast-in-situ concrete structures out of habit or used precast alternatives like protruding bars and hybrid or handmade connections for seismic applications. However, there is no clear evidence about their seismic behavior, nor usage risk evaluations.
What makes precast
a worthy choice now?
Traditionally, bolted column connections have been used for seismic applications as overdesigned and oversized connections.
Now precast concrete enters a new era with Peikko's new HPKM/HPM-EQ connection, which allows for smaller column cross-sections when compared to bolted column connections. This can lead up to 20 % concrete volume savings in columns. A further 50 % of cost savings can be gained with a reduced excavation depth for foundation and by a self-supporting connection.
HPKM/HPM-EQ connection improves the overall efficiency on site and makes for faster construction. The fact that the connection is stable right after erecting the column adds to the safety – important on site with many different workgroups and simultaneous proc-esses.
To ensure proper detailing and design, Peikko also offers research-based design guidance and the latest expert know-how for seismic precast frame connections. And because precast structures are made in factories, quality control and workmanship is on a high level, effectively eliminating problems that often arise with un-skilled workforce.
One way to deal with seismic loads is to overdesign the connections so that they have much more capacity than the column it supports. Over-designed bolted column connections require relatively big column cross-sections to have enough space for an oversized bolted column connection. Economically, it makes no sense.
Depending on ductility class requirements, connection can be designed as standard, energy dissipating or overdesigned. For medium ductility requirements, Peikko HPKM/HPM-EQ connection is an excellent choice.
As Peikko's HPKM/HPM-EQ connection dissipates energy, it can be designed to match the columns capacity. Under specific conditions, this leads to a smaller column cross-section.
Rigorous testing regime
by Politecnico di Milano
The main objective in seismic design is to ensure that the building and its components will sustain an earthquake without collapse. Most design approaches meet the challenge by keeping a certain reserve of the structural strength. Because of this, column connections in an energy-dissipative structure are often overdesigned and oversized.
Contrary to that, Peikko's new HPKM/HPM-EQ connection dissipates energy itself so it can be designed to match the capacity of the column.
Research was carried out under the supervision of a highly-respected third party, which signed a recommendation document as an outcome of the research program.
Politecnico di Milano assessed and studied ductility, energy dissipation, stiffness and strength degradation of precast and cast-in-situ specimens under cyclic loading in numerous tests. Testing proves the reliability of Peikko's HPKM/HPM-EQ solution and the safety of precast concrete structures in seismic zones.