Progress Group
New automatic multi-angle sawing machines for smart production lines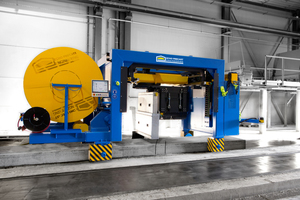 Figure: Progress
The automatic multi-angle saw developed by Echo Precast Engineering allows for fully automatic, exact cuts while reducing wear on saw blades
Figure: Progress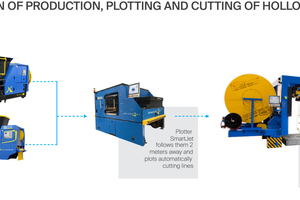 Figure: Progress
The automatic version of the MAS multi-angle saw makes production lines smarter and more efficient
Figure: Progress
Echo Precast Engineering has just added an automatic version of its MAS multi-angle saw to the company's product range. This new machine makes production lines smarter and more efficient.
Exact cuts in cured precast elements
Just a few clicks are needed for the MAS to cut cured precast elements exactly to the specified length. This machine is suitable for precast prestressed and reinforced concrete elements with thicknesses from 12 to 50 cm. Cutting speed is automatically set by the saw motor's electronic power control, which reduces wear on saw blades while also preventing the blade from getting stuck in the prestressed concrete element if one and the same production bed is used thanks to the inclined positioning of the slab parts after cutting.
Line detection in two steps
The new MAS multi-angle saw uses the proprietary "Line Detection" technology, which involves two steps: First, the automatic SmartJet plotter plots the cutting lines onto the element; second, the multi-angle saw designed for automatic cuts detects the lines. Adding such a machine makes it possible to establish a smart production process in which the work steps of concrete pouring, plotting and cutting are synchronized. On the production bed, the automatic SmartJet plotter follows the X-Liner extruder or the S-Liner slipformer at a distance of 2 m and plots the cutting lines onto the fresh concrete using a special ink that marks a new calibration point for each specified MAS cut.
Utmost precision in every single cut
Once the concrete has cured, the new automatic multi-angle saw uses its sensors to detect these markings and aligns the saw blade accordingly to make sure that the corresponding cut is as exact as possible. This process allows for utmost precision in every single cut.
CONTACT
Echo Precast Engineering NV
Industrieterrein Centrum Zuid 1533
3530 Houthalen/Belgium
+32 11 600 800