Monday, 15th November → The digital transformation in the construction sector and the role of precast concrete
Moving construction products industry in a digitalized construction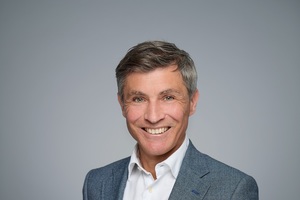 Christophe Sykes
Director General of Construction Products Europe. An experienced EU public affairs professional, Christophe has been working for Brussels-based European non-profit associations for over a decade. He started his EU career with the raw material industry and was then invited to re-launch a construction product association. Christophe's main task is to identify report and help define industry positions vis-à-vis EU legislative initiatives that may impact the EU construction industry.
If we start from two observations, firstly that digitalization is here to stay, secondly that data is the new gold, we must ask ourselves what this means for construction generally, and our companies specifically. Obviously, this is not a recent question but one that has not yet been (fully) answered by construction product manufacturers. Our business is known, our manufacturing processes controlled, we have standards and regulations, what could go wrong? What could disturb our value-chain?
The European Commission is financing a great number of digital construction projects, mostly run by research institutes and universities. Do these know of our needs? Huge investments are made in various digital tools like 3D printing, robotics, digital logbooks. Is our data ownership recognized and valued?
As we look to achieve the 2050 EU climate goals, there is talk of sustainability, circularity, decarbonization, deconstruction, and recovery in construction. Some promote digital tools as the way forward but are these set as a goal, or should there be a means to achieving performance targets?
Currently, the world-leading construction products companies are European, whilst the majority of the industry is made-up f SMEs, serving local markets. Who are the new digital construction players? Will they these take time to understand the inner workings of our industry, or will these try to force change as was done in other industries?
Our industry delivers data, both mandatorily and voluntarily, firstly through the Declaration of Performance (DoP) set out in our product standards and the Construction Products Regulation, secondly through Environmental Product Performance (EPD) declarations. The former, and soon the latter, may be delivered in a digital format. There are now numerous attempts at digitalizing building data through logbooks. Will we remain the owners of our data? Will building performance data become the source of wealth? This revolution is happening in the car industry, what can we learn from it?
What are the messages sent out by our industry to EU leaders? Can we ensure that technology comes in as supporting tools, not as an objective in itself?
There are, for now, numerous questions that remain unanswered. We have the opportunity to explore these together, looking to shape some forward-looking strategy and communication plan.