B & T Bau & Technologie/Holcim
Mariinskiy Theater: outstanding acoustics with CEton elements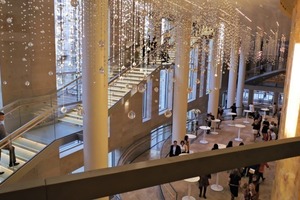 Figure: B & T Bau & Technologie
Brilliant Swarovski crystals mark the lobby of the new extension
Figure: B & T Bau & Technologie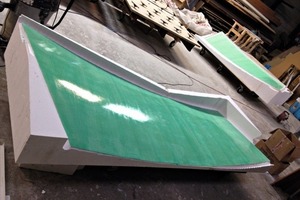 Figure: B & T Bau & Technologie
Mold used for one of the acoustic elements
Figure: B & T Bau & Technologie
Built in 1860, the Mariinskiy Theater is one of the most famous opera and ballet venues worldwide. It is situated on Theater Square right in the center of the northern Russian city of Saint Petersburg. The building extension was inaugurated in spring 2013 after a construction period of about ten years. Besides other features, this so-called Mariinskiy-2 building impresses with its outstanding acoustics achieved not least by installing custom acoustic elements supplied by the German company B & T Bau & Technologie.
Originally, the new building was to be constructed according to the design of French architect, Dominique Perrault. He had proposed a yellow, capsular object consisting of steel and glass, but its construction failed due to the weather and soil conditions prevailing in Saint Petersburg. Although those overseeing the project knew, as early as in 2008, that an alternative solution had to be sought, they proceeded with implementing the French architect's design. In the following year, Toronto-based Diamond Schmitt Architects won a second competition that was initiated to propose and select a theater design that was actually feasible, and could be built onto the previously constructed foundation walls. These plans were ultimately implemented.
Precast elements from ­Germany
The finished building cost 500 million euros; it has a floor space of about 80,000 m2 and extends over seven above-ground and three below-ground stories. Its façade has a rather modest appearance, providing a stark contrast to the grandeur of the decorative objects that adorn the adjacent buildings. The interior replicates the horseshoe shape typical of Italian theaters and includes three balconies to accommodate up to 2,000 visitors, who enjoy the fit-out of the new building that features 4,000 m2 of backlit onyx from Iran, Brazilian marble, and brilliant Swarovski chandeliers.
However, the state-of-the-art stage equipment and the building's outstanding acoustics are the proverbial icing on the cake. Munich-based company Müller-BBM designed the related features and partnered with B & T Bau & Technologie, of Raubling, Germany, to deliver the elements installed in the building. B & T specializes in the production of custom precast elements marketed under the CEton brand, which meet exceedingly demanding requirements. In many cases, the company files patent applications for its newly designed elements. This precast business with a global presence boasts an impressive list of clients, among them renowned architects such as Sir Norman Foster and Zaha Hadid.
10 m2 in size, doubly curved
For Zaha Hadid, B & T owner Kruno Stephan Thaleck developed a cement-based building material in 2012, which makes it possible to produce very slim, only 60 mm thick concrete-based elements. These can be manufactured in almost any conceivable three-dimensional shape whilst weighing a mere 50 kg/m2. To protect his development, the business owner got this building material patented under the CEton brand. He was thus able to utilize this – slightly modified – material in the Mariinskiy 2 project. This innovative material was used, for instance, for all balcony floor slabs and for the main theater ceiling. These elements were precast at the factory and transported to Saint Petersburg.
Furthermore, Thaleck developed custom resonant bodies whose strictly confidential arrangement enabled compliance with the stringent acoustics specifications. The individual elements measure up to 10 m2, and some of them are doubly curved. Prior to commencing production, B & T had to work very closely with the Müller-BBM staff. Several samples were fabricated and thoroughly tested to determine their acoustic and architectural characteristics to finally approve the most appropriate design option.
Brilliant white surfaces
All ceiling elements had to have a brilliant white appearance to match the overall theater design. "We added Holcim white cement to the CEton mix," Thaleck explains. "This type of cement makes it possible to produce snow-white surfaces. At the same time, it provides the advantage of always achieving the desired shade by adding pigments."
The HolcimWhite cement also complies with all relevant strength requirements, achieving the same strength classes as gray cement. Furthermore, there is no difference with respect to using concrete additives and admixtures. The ceiling elements were thus produced exceedingly quickly thanks to the sound quality of the cement and the outstanding CEton mix design. The precast elements could be packaged and loaded as early as twelve hours after concrete pouring.