Wielton/Langendorf
Manufacturer of inloaders banks on international growth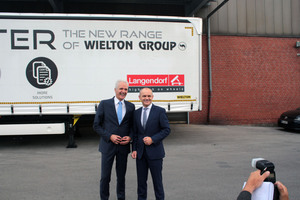 Figure: Wielton/Langendorf/R. Otto
Dr. Klaus P. Strautmann (left), owner-shareholder Langendorf, and Mariusz Golec (right), CEO Wielton
Figure: Wielton/Langendorf/R. Otto
The Wielton Group, one of the biggest manufacturers of semi-trailers and trailers in Europe, has announced its strategy for growth. It is based both on organic growth and on the acquisition of new customers. The Group's strategic goals include, above all, a projected increase in turnover from around 280€ million in 2016 to around 560€ million in 2020, which equals an increase in sales from 12,900 to 25,000 vehicles, as well as maintaining the high profitability levels.
The strategy announced by the Wielton Group depends on doubling the results by increasing the company's presence in the global markets. The acquisition of the German company Langendorf in May of this year was the first step in implementing this strategy. The Group has ambitious plans with the German company; the turnover generated on the German market is to be increased to 80€ million by 2020.
Among the world's top ten
According to the 2020 strategy, the Wielton Group plans to build up a strong competitive position in the leading markets it is active in – that is, in Poland, France and Italy, as well as in Central and Eastern Europe. The Group also plans to be present in the markets of the eight member countries of the West African Economic and Monetary Union (UEMOA).
"The strategy is based on utilizing the potential of the companies acquired in order to be able to maintain a strong position among the top ten in the world markets and secure the third rank in Europe. In the German market, we aim to be among the top five sellers of semi-trailers," says Mariusz Golec, Chairman of the Board of Wielton S.A.
Langendorf based in Waltrop is a family-owned business with over 70 years of experience in the manufacture of semi-trailers. The company currently ranks among the leading vehicle manufacturers in Europe and offers a wide range of products including semi-trailers, tipping vehicles, transport trucks for precast elements, low-bed semi-trailers, double-deck inloaders, inloaders for the transport of glass, and special vehicles.
In the glass inloader segment, Langendorf is the undisputed market leader in Germany with a market share of 57%. In the first quarter of 2017, the company ranked fourth in Germany for the sale of tipping trucks. A total of 1,000 new vehicles left the plant in the German town of Waltrop last year.
Langendorf brand will continue to exist
In May of this year, the Wielton Group acquired a shareholding of 80% in Langendorf; the value of the transaction amounted to 5.3€ million. The acquisition of the remaining 20% will be completed by the end of 2022.
The acquisition was highly beneficial both for the Wielton Group and for Langendorf, the Polish company said: the German company enjoys an excellent international reputation and has gained unrivalled expertise. "The Group has ambitious plans for the future of Langendorf," says Wielton manager Golec: "These include, among other things, an increase in turnover on the German market of 48€ million to 80€ million by 2020, an increase in annual sales from 1,000 to up to 2,500 vehicles, and maintaining the high profitability levels."
"Joining the forces of the two research and development divisions based in Wieluń and Waltrop will open up more opportunities for us to create and market innovative product solutions. The takeover also allows us to increase the purchasing effect within the Group and to expand the number of both the highly specialized service bases and the partner bases throughout Europe," says Dr. Klaus P. Strautmann, managing director of Langendorf GmbH. "The most important aspect for us was that Langendorf will continue to sell its products in Germany and in the other existing markets under its own brand name."