DSM Dynema/Dolezych
Load securing: PowerLash lashing chain sets new standards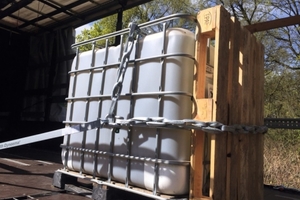 Figure: Dolezych
The PowerLash chain is completely manufactured of webbing made of ultra-high-molecular-weight polyethylene fibers. Several layers of the fabric are wound and sewed to form chain links
Figure: Dolezych
The "PowerLash with Dyneema" textile lashing chain with a lashing capacity (LC) of 5,000 daN is the result of an intensive collaboration between the companies DSM Dyneema and Dolezych.
DSM Dyneema is inventor and manufacturer of the UHMWPE fiber (ultra-high-molecular-weight polyethylene or high-modulus polyethylene), which is marketed under the registered trade name "Dyneema, the world's strongest fiber". Dyneema provides maximum strength combined with minimum weight. Measured by weight the fiber is 15 times stronger than high-grade steel and up to 40 % stronger than aramid fibers. The Dyneema fiber floats on water, is extremely abrasion and cut resistant as well as resistant to moisture, UV radiations and chemicals.
The fiber is processed by Dolezych GmbH & Co. KG. The multinational, family-owned company headquartered in Dortmund has recognized experience in the development and production of lashing products and holds numerous patents in this field.
Tried and tested in practice
The principle of the "PowerLash with Dyneema" introduced above is as simple as it is clever: The PowerLash chain is completely manufactured from webbing made of Dyneema. Several layers of the fiber are wound and sewed to form chain links. This textile chain that can be produced in any length is combined with especially developed chain hooks, high-strength shackles and special tensioning elements. Ultimately, the chain is easily comparable with high-strength steel as far as tensile strength and durability are concerned, but it is up to 85 % lighter and much more flexible in use.
The new load securing systems were thoroughly tested during a six-month testing period by actual users, and they proved their worth under real operating conditions excellently. Products with different chain lengths, hooks and tensioning elements were used in these tests. Short lashing chains already achieved enormous weight and handling advantages. Especially, the longer lashing chains from useful lengths of 6 m onwards demonstrated that the extremely lightweight and cut-resistant Dyneema fiber seems to be unbeatable in some applications. Actually, in case of chain lengths of 20 m and more, just one person was able to attach the load securing system quickly and without difficulty. It is moreover easy to shorten the system right as it is typical for a chain. The hook merely has to be hooked in the chain link at the requested length, and that's all. A high-strength shackle with appropriate strength properties can be used as shortening element, too. Even in case of sensitive cargos the soft lashing chain can be pulled over the load without any additional protection against scratches, for example.
The tensioning element of the system is also an innovation. A special, easy to handle lashing strap system replaces the ratchet load binder that is usual for lashing chains. This results in a much longer tensioning distance and additionally contributes to a reduction in weight.
The system is exclusively available at the manufacturer Dolezych. The company offers professional consulting service, even on site at the customer's premises.