TOPWERK GROUP
Investments in an expanded manufacturing location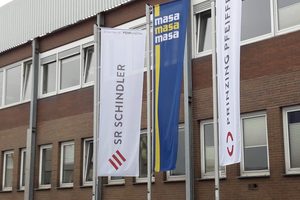 Figure: TopWerk Group
Topwerk invests in an expanded manufacturing location at Porta Westfalica for SR Schindler and Prinzing-Pfeiffer
Figure: TopWerk Group
The Topwerk Group is expanding its manufacturing facility in Porta Westfalica into a production and logistics hub. The production and assembly of the product companies SR Schindler (with the exception of the production of molds / matrices) and Prinzing-Pfeiffer will be relocated to Porta Westfalica. The focus of the initiative is on customer benefit.
"With the integrated production center at the Porta Westfalica site, we will improve our manufacturing processes, reduce throughput times and accelerate our commissioning processes. This will enable us to supply our customers even faster and with even higher quality in future," explains Robert Gruss, CEO of the Topwerk Group. "The creation of a central warehouse will also ensure the availability of materials and spare parts and thus faster response times. This is an important step for us and our customers worldwide".
The locations of SR Schindler in Regensburg and Prinzing-Pfeiffer in Aarbergen and Blaubeuren, together with their core competencies, will both remain.
Big advantages for the future
Bernward Reif, managing director of Prinzing-Pfeiffer, sees great advantages for the future: "Now we can concentrate on our core competencies of design, development, sales and services at the locations. This will help us to develop stronger customer relationships and further expand our market share".
SR Schindler has already had positive experience with several projects that have been realized recently in cooperation with Porta Westfalica. "Naturally, the respective contact persons for our customers at SR Schindler and Prinzing-Pfeiffer will remain unchanged on a personal level. Machine acceptance tests and factory visits are still possible," explains Martin Dalbert, Managing Director of SR Schindler.
The employee representatives of the sites concerned were involved in the project at an early stage. "We would like to thank the employee representatives for the extremely constructive and cooperative discussions in which we agreed a balanced reconciliation of interests and social plan," says Robert Gruss.
The merger has already been implemented to a high degree Topwerk Group is a world-wide leading supplier of machinery and plants for industrially manufactured concrete products. The holding company unites the well-known product houses Hess Group, SR Schindler, Prinzing-Pfeiffer and Hess AAC Systems as well as the Masa Group under one strategic roof.