KUKA
How robotics and digitization revolutionize construction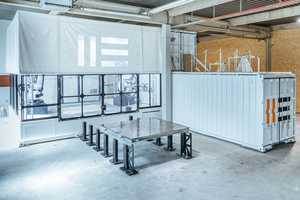 Figure: Kuka
The Concrete Aeditor comprises production and material containers as well as a concrete mixing unit
Figure: Kuka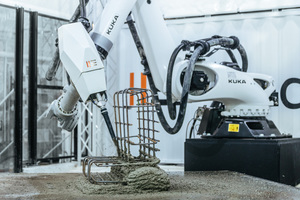 Figure: Kuka
The Kuka robot applies shotcrete from a large nozzle with uniform movements onto a lattice-girder steel cage
Figure: Kuka
The start-up Aeditive has developed a 3D process for printing concrete construction elements by robot. The company Kuka is researching further automation in construction.
The construction industry must not only address the current challenges of the corona pandemic. Increasing shortage of skilled workers and the need to catch up on digitization is occupying the industry – for example, in digital planning and automating production technologies. The start-up Aeditive, in association with Kuka, has developed a process that is to change all this.
"Structural shortcomings and outdated work methods are omnipresent in the construction industry," says Alois Buchstab, Vice President of Advanced Robotic Applications at Kuka. According to him, communication among architects, clients and designers is often dominated by a silo mentality. In addition, the sector, more than any other, is threatened by a shortage of skilled workers. "Digitization and robotics are the key to meet these challenges. The construction industry, which has a great deal to catch up on in this regard, offers gigantic automation potential."
Aeditive develops 3D printers for concrete construction elements
The start-up Aeditive demonstrates that robotics can be efficiently used already today in the construction industry. The Hamburg-based company has developed the Concrete Aeditor – a kind of site container in which concrete construction elements are additively manufactured, layer by layer, by a spraying method. "Our customers need no longer rely on expensive and time-consuming formwork. In this way, we can significantly increase the degree of automation and sustainability in production – and this at competitive costs," says Alexander Türk, CEO and one of the founders of Aeditive.
In the first step, the Concrete Aeditor is planned to be used in precasting plants and, in a second step, on construction sites. "The construction industry is on the brink of its digitization and automation process. In this, robots will play a major role. As solution providers, we want to be ready early on," says Alexander Türk.
Kuka participates in the Internet of Construction project
At Kuka, the opening up of new sectors like the construction industry is of great significance. "In future, robots could be used in production of building components. Their use on construction sites is also conceivable," says Alois Buchstab. This could result in higher productivity, which in turn could benefit the continuously growing need for housing."
Already some time ago, Kuka got involved in the Internet of Construction project of RWTH Aachen. The project investigates digitization, digital building models and the networking of companies along the value-added chain. Among its objectives is the increase of on-time delivery performance and quality in construction with the aid of continuous information.
CONTACT
Kuka Deutschland GmbH
Zugspitzstr. 140
86165 Augsburg/Germany
+49 821 797-50