Marcantonini
Flagship factory for the precast industry of the State of Kuwait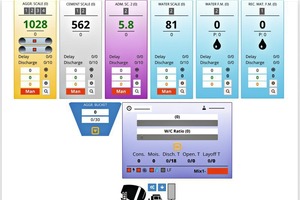 Figure: Marcantonini
Together with the technologies ­developed by MCT, the new software control system enables customers to achieve maximum precast production efficiency whilst minimizing mistakes and waste, and reducing costs
Figure: Marcantonini
The new development of rows upon rows of vertical apartment buildings has been completed along grand avenues and streets of the new Kuwait City residential area. The speed and effectiveness of the construction achievement was possible in large part by high-quality precast concrete produced at one of Kuwait's largest precast plants built next to Kuwait City.
Precast is the choice
Acico Industries Co. is one of the largest groups of companies in Kuwait. Established in 1990, it comprises five companies, including Acico Construction. The business serves a wide range of industries with an annual operating income of more than 100 million KWD (300 million euros). Acico Construction has worked across the entire Middle East region for previous projects with outstanding success.
Acico cooperated with top-expertise architects to develop the master plan for a new part of the city, involving residential, social, infrastructure and commercial areas.
A rapid delivery of the proj-ect was commissioned by the main contractor, which is why Acico adopted a building system that permitted a fast erection phase along with consis-tently high-quality elements to ensure accurate, quickly built structures. The only reasonable option was precast.
Kuwait City bounds ahead
Apartment towers are rising, and the social infrastructure is setting the scene for the next developing decades. To achieve such great progress in a relatively short time, Acico Industries Co. undertook what is possibly the greatest instance of an industrialized precast production facility ever built in the country.
To achieve such a remarkable success in quality and speed on this prestigious task, Acico Industries Co. called upon the precast consultancy and international manufacturing capability of Marcantonini Concrete Technology (MCT) from Italy. Marc-antonini Concrete Technology was selected for and entrusted with implementing the major precast plant by Acico Construction after detailed studies of its equipment, efficiency, reliability, after-sales service support and experience throughout the Middle East region.
Fast concrete distribution
Within the project, Marcantonini Concrete Technology equipped the batching plant with a double mixer (2 m³ of concrete production each) associated with an automatic concrete distribution system capable of supplying concrete for the production of sandwich elements, items in battery molds, and hollow-core slabs.
The plant produces all structural components required for civil buildings, such as hollow-core slabs, main and boundary walls, sandwich panels, and stairs.
The double-mixer plant ensures a concrete production of 100 m3/h during peak time. Furthermore, an automatic pigment dosing system makes it possible to cast colored concrete for the top layer if required. Rapid, reliable and fast delivery is carried out by the latest version of Marcantonini Concrete Technology flying buckets that enable a maximum speed of 240 m/min.
Newly developed Compumat software
The plant supplied to Acico Construction provided the right occasion to test the new release of the Compumat in-house software developed by Marc-antonini Concrete Technology, which takes precast production to a new level. MCT's new system for concrete production and casting process management keeps growing along with the requirements of quality control and verification that nowadays, more than ever before, are becoming increasingly common and strictly controlled by authorities almost on a worldwide scale.
Together with the technologies developed by MCT, the new software control system enables customers to achieve maximum precast production efficiency whilst minimizing mistakes and waste, and reducing costs.
Many new features have been implemented in the software with the aim to considerably reduce manual work performed by the operators whilst ensuring perfect results. MCT added a proactive support feature to prevent any possible fault and to monitor the status of the plant from the headquarters almost in real time. A plethora of data can be easily extracted from the software to feed any ERP or BI suite, or any other data analytics system.
Software and automation on the rise
Marcantonini Concrete Technology is well established and known as one of the major players for the supply of customized precast mixing plants and concrete distribution systems across the Middle East countries.
"I believe that our fully customized plants are leading the precast industry in terms of achieving high production output and minimizing the workforce", Middle East Sales Director Gabriele Falchetti says.
"We have noticed a general Middle East market contraction mainly due to the declining oil price, but thanks to our growing sales network, we are able to maintain stable revenue for the area: in 2017 we will deliver precast plants to Egypt, the UAE and the Kingdom of Saudi Arabia."
A key part of Marcantonini's approach to customers is dedicated to the greater influence and added value of the automation and software control, Falchetti emphasizes: "Continuous product development is our main target which we strongly believe in. The role of software and automation is on the rise and this year we have launched the fruits of recent R&D activities: optimizing the concrete production process and analyzing relevant data becomes intuitive with our new Compumat suite. Remote control makes updates and checks extremely easy and makes it possible to manage the entire production process."
Finally, Andrea Marcantonini, CEO of the company and main promoter of the Compumat software release, adds: "For us, while developing and improving what we do and how we do it all the time, every aspect of that effort is founded on being aware of the easy and intuitive use by customers from any part of the world. This is truly important to us, to our culture, letting us work in a sincere partnership with our clients."
CONTACT
MCT ITALY S.r.l.
Via Perugia 105
06084 Bettona, Perugia/Italy
+39 075 988551