SBM MINERAL PROCESSING
Euromix – 20 Years Full Speed Ahead for Concrete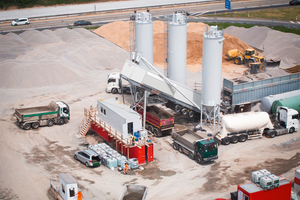 Figure: SBM Mineral Processing
Euromix 3000 CC+ plays a major role for the construction of the motorway D1 Prague-Brno in Czech Republic
Figure: SBM Mineral Processing
Started 20 years ago, it has since then enjoyed unparalleled success. This year, the concrete mixing plant Euromix made by SBM Mineral Processing celebrates its 20th birthday.
No matter if it's the complete refurbishment of the motorway A1 between Prague and Brno, the construction of the airport in Norilsk in Siberia under toughest climatic conditions, a unique research centre high up in the mountains, or the Semmering Base Tunnel, today's most complex tunnel building project in Europe: all these construction highlight rely on the concrete mixing plant Euromix made by SBM Mineral Processing. Currently, a total of six plants are standing out at the Semmering construction site.
Finding Solutions with and for Customers
"Thanks to the challenging demands of our clients, the feedback of the plant operators, and the know-how of our qualified employees, SBM managed to develop Euromix to be the global market leader in its class. Its modular design, powerful performance and long life have been convincing all renowned concrete producers in Europe," says Ing. Gerhard Gschwandtner, Head of SBM's Concrete Technology.
A client from day one, the Austrian company Asamer still profits from this high degree of practical relevance. At peak periods, Asamer runs numerous Euromix plants in Europe, the United Arab Emirates, Saudi Arabia, North Africa and Russia at peak periods. "The first Euromix is still operating at full speed near Moscow ", declares Gschwandtner. Reliable production of concrete at temperatures of -25 to 40° C, powerful 24/7 operation, the plug-and-play principle – i.e. the installation of the plant within eight days – make Euromix to be a real trendsetter in the global market of super mobile concrete mixing plants.