Trimble
Efficient precast project planning with a shared building model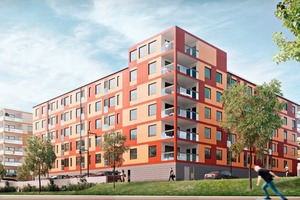 Figure: Trimble
The sandwich elements for the Arkens Väg Apartment ­Complex in Haninge …
Figure: Trimble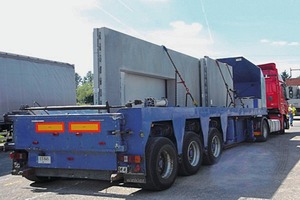 Figure: Trimble
… were manufactured in Lithuania and delivered by ship and truck to the construction site in Sweden
Figure: Trimble
Markučiai, one of the largest manufacturers of precast concrete elements in Lithuania, has worked with Tekla Structures Building Information Modeling software for many years. BIM software simplifies collaboration among project partners and guarantees on-time completion of construction projects. Markučiai uses BIM even more efficiently and consistently than do many other companies: not only for design and planning, but for the entire project procedure, from cost calculation, including production, and to erection.
Precast elements delivered from Lithuania to Sweden
The Arkens Väg apartment complex in Haninge, Sweden, is one example of many such projects. These U-shaped buildings with five to seven stories consist of complex concrete sandwich elements that Markučiai planned, manufactured, and erected. The elements were completely manufactured in Lithuania, delivered to Sweden by ship, and erected there. Thanks to BIM software, the participating structural engineers and designers were kept up to date on project status and construction progress at all times.
BIM software enables highly standardized work procedures. More than 40 Tekla engineers work with a centrally controlled, company-specific environment with their own modelling regulations and components. All workers at the construction site, in production, and in the planning office, access only a single information source that provides them with consistent information.
95 % of the problems are solved ahead of time
This approach offers many advantages: beginning with fast, flexible, and precise cost calculation; including more efficient planning of buildings, components, materials, and logistics; and extending to simpler identification of error sources as well as to more precise documentation.
"With our model-based approach to our projects, we can already solve 95 % of all problems before a component is delivered to the construction site," says Audrius Tulaba, General Director of Markučiai. "As a result, we must improvise less in production and at the construction site. But, most importantly, we build better and we remain within our time and budget schedules."