Progress
Dance of the rebars at Finger Beton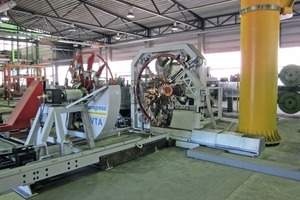 Figure: Progress
The two wheels of the VTA are electronically synchronized, the Progress inverter welding unit provides for quality and efficiency
Figure: Progress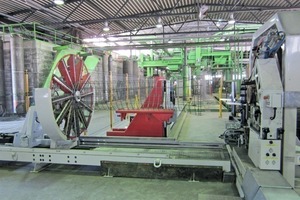 Figure: Progress
The finished reinforcement cages are automatically removed after ­production
Figure: Progress
At the production site of Finger Beton Sonneborn GmbH & Co. KG a new fully-automated cage welding machine of type VTA 160, designed and constructed by Progress Maschinen & Automation, was put into operation mid March. Efficiency, speed and full automation are the key features characterizing this innovative machine. It is quite impressive to see the new VTA 160 cage welding machine in action. The machine grabs, closes and opens, rotates, welds. Not a single, superfluous manual step is required in this process: all operations are fully automated from feeding through to the removal.
The VTA 160 has been operating at the Sonneborn production site of Finger Beton for more than six months now, being in the position to produce reinforcement cages with a diameter from 300 mm up to 1,600 mm. They are used for the production of reinforced concrete pipes.
The machine obviously provides added value to Finger Beton: Both the manpower requirements and expenditure of time needed for the production process are quite low. While a consistently high level of quality can be guaranteed simultaneously.
"Full automation and the coherent concept of the VTA 160 have convinced us," states Jörg Fischer, technical plant manager, giving reasons for the decision. Feeding of wire as well as the removal of finished cages are carried out in a fully automated way. "This is an enormous advantage compared to the previous situation, when we had to remove the 90-kg cages manually," Fischer added. At least of equal importance was, moreover, the fact that the machine could be perfectly incorporated in the production processes of the existing pipe manufacturing plant.
Full automation of the VTA 160
At the beginning of the production cycle, the prefabricated longitudinal wires are loaded to the feeding unit, which then adjusts the diameter of the cage accordingly. In a subsequent step, the pull-out unit is fixing the longitudinal wires by means of wire clamps. Then, the production process begins, i.e. the two wheels start turning – not via a connection shaft but in an electronically synchronized way.
The welding system is also well-conceived: It not only features a high welding quality and low power consumption values thanks to the Progress inverter welding unit, but it also reduces the formation of sparks considerably. Furthermore, the cage diameter can be changed quickly even during the production process, and the cage production line is completed by an automatic winding wire cutter.
At the end of the production process, the finished reinforcement cages are automatically removed, carried to the pallet circulation system of the pipe machine and are placed onto the pallet provided. In the meantime, the production process can be continued with further cages thanks to a pallet buffer.
The VTA product series was developed by Progress Maschinen & Automation, a company of the Progress Group. The South Tyrolean enterprise is specialized in the development and construction of tailor-made solutions for reinforcement steel as well as plant automation.