Besser Company/Econcrete
Companies promote bio-enhanced concrete products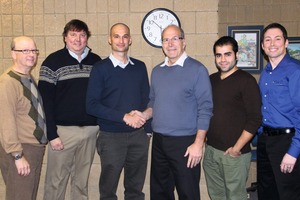 Figure: Besser
The group gathered for a commemorative photo after the agreement was signed. Pictured left to right: Scott Foerstner, CFO, Besser Company, Jason Rensberry, Controller, Besser Company, Ido Sella, CTO and Co-Founder of ECOncrete, Kevin Curtis, President & CEO Besser, Andrew Rella, Biologist at ECOncrete and Ryan Suszek, Director of Operations – Pipe & Precast
Figure: Besser
Besser Company and ­ECOncrete Tech Ltd. have jointly embarked on a project to develop a high production dry cast system to use ECOncrete's proprietary additives and designs to produce Bio-Enhanced concrete products. Extensive research has demonstrated that concrete products containing ECOncrete's proprietary additives and designs are able to reduce the ecological footprint of urban and coastal infrastructure and mitigate the impact of climate change. Besser Company and ECOncrete will market and promote the products jointly. ECOncrete has several successful wet cast products available and in use today, and through the collaboration with Besser Company, will apply its technology to dry cast products.
Besser Company's role is to engineer, test, and manufacture molds and concrete products that satisfy the concrete unit specifications defined by ECOncrete. Kevin Curtis, Besser Company President & CEO commented, "We are excited to be working with ECOncrete; the project is a perfect fit for our two companies. Besser has an excellent track record for making a concept a reality by designing, testing and demonstrating how concrete products can be manufactured on a large scale commercially viable manner."
Innovative spirit
The path of ECOncrete to Besser has an interesting theme. Dr. Don MacMaster, President of Alpena Community College (ACC), attended a presentation given by Dr. Shimrit Perkol-Finkel, ECOncrete CEO. At Dr. MacMaster's invitation, Perkol-Finkel visited Alpena and toured ACC. Following the visit ECOncrete launched a yearlong pilot study in Alpena, in collaboration with the Thunder Bay Marine Sanctuary. More than a year later Perkol-Finkel called Curtis and the basis of the project was outlined. After several more discussions Curtis turned the project over to Besser Manager Kari Schellie and Sales Agent Mano Riesman who worked with the ECOncrete team to prepare the documents for presentation to the Israel – U.S. Binational Industrial Research & Development Foundation (BIRD) for funding. BIRD committed to fund the joint project in December 2015.