VERBÄNDEBÜNDNIS HERSTELLERERKLÄRUNG
BAU 2019: Presenting regulation under private law as an alternative to the mark of conformity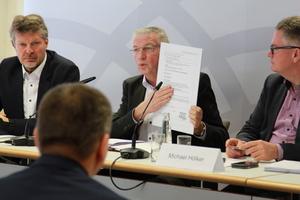 Figure: BFT International
Dieter Heller from the Bundesverband Leichtbeton (German Lightweight Concrete Federation), Clemens Kuhlemann from Lebensraum Ziegel (Living Space Brick) and Michael Hölker from the Bundesverband Deutscher Baustoff-Fachhandel (BDB) e.V. (Federal Association of the German Building Materials Trade) presented the solution under private law at a press conference held at BAU 2019
Figure: BFT International
To prevent the partitioning of national markets within the European Union, standards and guidelines are gradually harmonized at European level. This process of harmonization also has an impact on the construction industry. It was possible until recently to impose additional national requirements on the harmonized products. A judgment passed by the ECJ (C-100/13) on October 16, 2014 overruled this practice. The necessary amendment to the Building Codes of the sixteen German federal states based on the Model Administrative Provision on Technical Building Rules (Musterverwaltungsvorschrift Technische Baubestimmungen; MVV TB – August 2017 edition) now stipulates that national building regulation requirements may be imposed on the structure but not on the construction product bearing the CE marking. This is to ensure a standardized evaluation of construction products throughout Europe. It is no longer permitted in this context to use quality marks such as the mark of conformity common in this country.
The intermeshing of product, design and application standards must nevertheless continue to be ensured in the future. As a result, not only architects and specialist designers but the entire German construction industry faced the question of an alternative verification of the product properties to comply with the structural requirements. For the high quality assurance standards have still not changed – but adjustments were necessary to the way of communicating them to the public.
Requirements documents
The solution to this communication issue was presented by representatives of the Associations Alliance "Manufacturer's Declaration" – at the BAU 2019 trade show. These parties worked together to draw up so-called requirements documents under private law which determine the performance characteristics of each construction product. For compliance with the structural requirements, they become legally effective vis-à-vis the customer with reference to the Manufacturer's Declarations. As a result, the construction materials manufacturers give designers, clients and contractors – that is, all parties involved in construction – the same degree of legal certainty in terms of the quality-assured properties of CE-marked construction products than prior to the ECJ ruling.
The system developed by the Associations and Chambers involved is based on Section 3 of the Model Administrative Provision on Technical Building Rules (MVV TB). In addition to the Bundesverband Leichtbeton (German Lightweight Concrete Federation), Lebensraum Ziegel (Living Space Brick) and the Associations Cooperation "Deutsche Betonbauteile" (German Structural Concrete Elements), associations such as the German Federal Chamber of Architects and the German Federal Chamber of Engineers are responsible for the new system.