Quality and Flexibility
Commissioning of a New Multifunctional Machine in Switzerland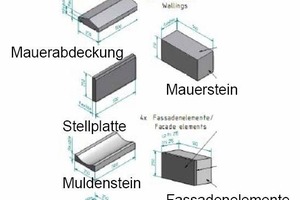  Baumat AG located in Wichtracht in Switzerland is an independent family-run business offering a wide range of products. When the existing production plant for making concrete blocks had well advanced in years, the company searched for a new manufacturing line that qualifies for high demands as far as quality and flexibility are concerned.

Then Baumat AG and Eltecna AG, a company specialized in planning and engineering of plants, together made a decision in favor of a solution offered by Rimac. The plant concept chosen is a newly developed RMM 4H multifunctional machine. The combination of advantages arising from the 4H tamping system and the multifunctional molds were the crucial factors for the decision to purchase this machine. 

The 4H tamping systems ensures a very high compaction and meets with high demands in respect of the visual appearance, abrasion and freeze-thaw resistance of the concrete products. The H4 tampering system allows manufacturing products that have an attractive appearance concerning the surface, the sharp edges as well as the textures.  

It is almost possible to manufacture everything starting from small-scale curbstones of 250 x 100 mm up to large-scale slabs of 1,200 x 600 mm. The production heights can be chosen between 30 mm and 150 mm flexibly. As an option, the machine may also be furnished with an additional vibration system. In this case, for example, the multifunctional mold of 1,000 x 500 m allows to manufacture retaining wall slabs, large-scale slabs, façade slabs and split stone rough casts.  

In order to guarantee a maximum quality there is a 180 degree turning device with a matrix return system for loading the slabs having a size of 1,270 x 780 mm. Furthermore, the standard Rimac RFH Fixed Handling flat stack has been installed. An in-line position may be used, for example, for a brush-finish.

 Eltecna AG is responsible for the overall coordination and has delivered the peripheral equipment such as noise insulation, dust collection system and a complete mixing machine in according with state-of-the-art technology. 

The entire concept provides a very high level with respect to environmental aspects. State-of-the-art concrete recycling, water treatment and the utilization of renewable resources such as rainwater, ground and solar energy are above all worth mentioning. ⇥