New orientation
Hünnebeck becomes Harsco Infrastructure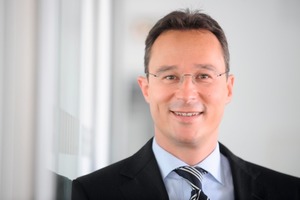 [Photos/Fotos: Harsco Infrastructure]
Fig. 1
The Managing Director Markus Nagel, who will head the future Harsco Infrastructure businesses in Central and Eastern Europe as well as Scandinavia.
[Photos/Fotos: Harsco Infrastructure]
As of 11 December 2009, the formwork manufacturer Hünnebeck, of Ratingen, Germany, has been renamed Harsco Infrastructure. At the same time, the subsidiaries SGB (UK) and Patent Construction Systems (USA) have become Harsco Infrastructure.
The Hünnebeck Group had already been part of Harsco Corporation since 2005. Harsco Corporation operates worldwide and provides industrial services and products in 50 countries. Harsco Infrastructure offers a unique product portfolio and network of experts ranging from development, rental, and sales of formwork, falsework systems, and safety solutions to comprehensive services for industrial customers.
Through the new orientation under the name Harsco Infrastructure, the expert knowledge, experience and performance capacity of the three sister subsidiaries will in future be focused even more effectively and made available to the customer. "Neither our contact partners nor our products and engineering services will change for our customers", assured Managing Director Markus Nagel, who will in future head the Harsco Infrastructure business in Central and Eastern Europe as well as in Scandinavia and who had previously been COO of the Hünnebeck Group.
"Our customers in Germany can rest assured that product development will continue. We plan moreover an extension of our services in the formwork, scaffolding and safety equipment sector". This is how Martin Hemberger, CEO of Harsco Infrastructure Deutschland GmbH, summarizes the goals the company has set for itself in the domestic construction market. Apart from the technical supervision of large-scale projects, one wants to concern oneself even more intensively with such tasks as the specific challenges faced by the medium-size construction industry.
With new names and an extended program, Harsco Infrastructure will present itself for the first time the trade public at bauma 2010, Stand 122/218, Hall A2, under the motto "On your site...worldwide" with the complete portfolio of formwork, scaffolding and services for the construction sector and the industry.
In the business year 2008, a workforce of 8,200 generated a turnover of US$1.5 billion for Harsco Infrastructure.