HEIDELBERG CEMENT
Timeless ensemble of white architectural concrete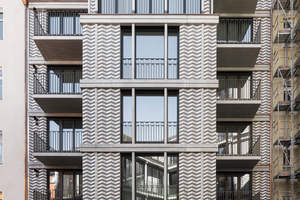 Figure: Philipp Obkircher
Cornice bands of dark gray concrete were combined with slender, bright white concrete columns
Figure: Philipp Obkircher
A modern residential building right on the bank of the river Isar presents itself as an equal of the listed neighborhood. The elements of architectural concrete were manufactured to precisely fit the structure, owing their brilliance to Italian white cement.
Made-to-measure concrete elements
The team from Maxx Raumelemente is responsible for the design, implementation and production of the exposed concrete elements, which have a complex geometry and fulfill both esthetic and structural functions. As concrete elements cannot be too complex for Managing Director Andreas Traxler, his company was the perfect choice for the ambitious residential construction project in Isarvorstadt. "The Munich project was a huge challenge because the design almost exclusively called for different concrete building elements with specific dimensions and requirements." In a first step, the concept provided by the office of Thomas Kröger Architekten was translated into a fully three-dimensional shop drawing, thus checking the design in terms of feasibility.
The company's in-house mold construction department produced hybrid molds by means of CNC machines and 3D printing technology. This kind of project places extremely high demands on both formwork construction and concrete quality. "Many years of experience have enabled us to construct three-dimensional molds that are dimensionally stable as well as completely leakproof and have no burrs. With a high level of expertise, we have developed concrete formulations for vertical elements of up to 6 m in height and with a wall thickness of 3 cm," explains concrete specialist Andreas Traxler, who is himself an architect and qualified carpenter. It is only the precise combination of concrete and formwork", says Traxler, "which ensures that an architectural concrete component does not look like a standard concrete element."
As white as a sheet of paper
Due to the fact that the self-compacting concrete was produced with a white cement from Italcementi, a subsidiary of HeidelbergCement, the light-colored concrete columns in the Munich project are as white as a sheet of paper. As it has recently done for the corporate headquarters of the construction materials company in Heidelberg, Maxx Raumelemente used this special concrete to produce exceptional precast elements for the main façade of the residential building in Munich. Slender round columns with a diameter of 13 cm were produced but not visible after installation. Arranged in a specific layout, they fulfill a design function between the window openings and wall surfaces. They rest on the dark-colored horizontal bands that were delivered floor by floor as construction progressed and fastened to the floor slabs of the shell by means of Isokorb elements. Several of the special precast elements, which are up to four meters high, have been reinforced with stainless steel.
Prestigious entrance of architectural concrete
A special effort was required for the amorphous, smooth-formed supports in the entire entrance area. These, too, are highly sophisticated concrete elements, as the columns have a complex geometry. The massive supports measuring around 4 m in height were poured vertically as a single unit. Beneath the projecting bay window, the columns split at a height of four meters to form delicate V-shaped branch supports, additionally curved in a further dimension – a particular challenge for both mold construction and production in view of an own weight of the bottom parts of 4 t and the daring geometry of the upper half.
A hybrid of conventional formwork and in-house construction was specifically developed to meet the special design specifications and precision requirements for the surface of these architectural concrete elements.
Accurate precast concrete elements
The gray precast elements of architectural concrete that characterize the façades in the inner courtyards also required a high level of precision and expertise. Most elements are unique items and have, for example, upstands or horizontal lips; in addition, different types of drainage or integrated slopes have been realized, and the concealed column connections also differ. Even the smooth-formed balcony floor slabs placed special quality requirements on formwork construction, as the highest exposed concrete quality was required for their soffits. They were therefore poured in a special two-sided positive formwork, that is, smooth in exposed concrete class SB4 on the bottom side and with a complex slab for slopes, ducts and upstands on the top.
Logistics on the construction site posed yet another challenge. Since all of the individual components needed to be delivered just in time, foresighted planning was required in pre-production. In addition, the exposed concrete elements were to be protected from surface damage as early as during shell construction. They were therefore treated with a special hydrophobic coating at the plant, which also provides graffiti protection.
CONTACT
Heidelberg Cement AG
Berliner Straße 6
69120 Heidelberg/Germany
+49 6221 481-0