Solidian
Thin, large-sized curtain walls made of textile concrete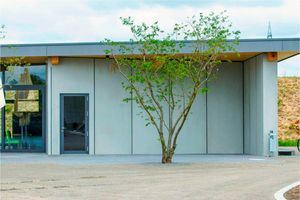 Figure: Solidian
"SchieferErlebnis" Dormettingen: : large-sized, rear-ventilated curtain wall with solidian reinforcement (Figure: Solidian)
Figure: Solidian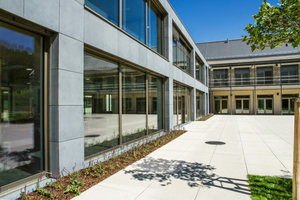 Figure: Solidian
GEBIZ in Albstadt: small-sized, rear-ventilated curtain wall with solidian reinforcement
Figure: Solidian
Thanks to the use of textile concrete, rear-ventilated concrete curtain walls are becoming increasingly popular. The non-metallic reinforcements of solidian enable the thinnest façade plates between 15 and 30mm and sizes of 10 to 15m². This is made possible thanks to non-metallic high-performance reinforcements made of carbon and glass fibres, developed by solidian.
solidian's construction engineers select the right reinforcements and produce static calculations. General technical approval for rear-ventilated curtain walls has been applied for from the DIBt and is to be issued at the end of 2018. Until the approval is issued, curtain walls are regulated by the construction supervisory authorities by means of approvals in individual cases – the solidian experts provide support here, especially through a large number of available test results.
New creative possibilities
Solidian's expertise lies in the manufacture of level reinforcements as well as free-form surfaces. This allows the architects to design new, creative shapes and large-sized façades with few joints. In addition to the shapes, the architect can play with colours and surface. All the possible variations make the textile-concrete curtain wall an attractive application for the outer layer of any buildings.
The concrete curtain wall also offers huge advantages for the investors. With the design possibilities, a customised visual appearance can be achieved without doubt. However, economic aspects such as space gain, saving of resources and energy, increasing the lifespan of the wall, etc. are also advantages offered by a slim, delicate concrete curtain wall.
The precasting plants have advantages due to the saving of materials, the reduction of transportation costs and in handling.
Renovation with textile reinforcements
A large number of concrete curtain walls have now been created with solidian reinforcements in Europe and the USA. Each structure was designed uniquely thanks to the levels of freedom of the non-metallic reinforcement. In addition to the individual design, there is of course also the option of producing the outer skin with a simple, small-sized grid and using the advantages of the high-quality concrete facade plates.
solidian is the leading provider of textile reinforcements for concrete construction. When building with textile concrete, carbon, glass or basalt fibres are used instead of steel, enabling a non-corrosive, lightweight and permanent construction method. The material allows innovative architectural construction forms as well as free-form surfaces. With textile concrete, dilapidated concrete structures can be permanently renovated. solidian advances the technology and produces its own reinforcements. Together with partners, innovative concrete components and application possibilities are implemented.