DMG EVENTS/BETONTAGE
The Big 5 Dubai with Precast Summit for the first time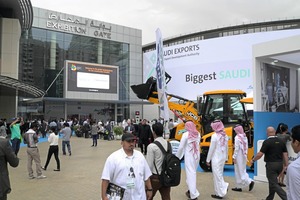 Figure: BFT International
The Big 5 Dubai is the leading trade show for the construction industry in the region
Figure: BFT International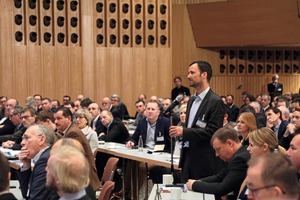 Figure: Photodesign Buhl
The BetonTage congress is the leading precast congress in Europe, there is an offshoot in Shanghai, China, and as of autumn this year in Dubai
Figure: Photodesign Buhl
An offshoot of Europe's leading event for the precast industry, namely the BetonTage congress, will be held as part of The Big 5 show in Dubai for the first time. The offshoot is called "Innovation in Precast Summit" and will take place on November 26 and 27, 2017 at Dubai World Trade Center. The summit comprises lectures on current topics of our industry and an accompanying exhibition of companies from the supply industry including BFS, Elematic, Eurobend, Frima, MBK; Ratec, Reckli, Wehrhan, WKB and Zenith.
The lecture program is dedicated to the most burning issues in the precast industry while always considering regional peculiarities. The lectures, which will all be given by leading precast experts from all over the world, provide information, among others, on cooling and heating of buildings by means of precast concrete elements, 3D concrete printing, BIM or on the automating of the precast production process.
Networking
among precast experts
The "Innovation in Precast Summit" could become a real turning point in the development of the regional precast industry. "The hot weather in the Middle East region virtually requires innovative solutions, such as the integration of cooling systems in precast concrete elements", says Dr. Ulrich Lotz, General Manager of the BetonTage congress and moderator of the lecture event. "The summit provides visitors with an exclusive opportunity for maintaining contacts with experts of selected companies of the supply industry to the precast concrete sector," states Josine Heijmans of The Big 5 show, as part of which the "Innovation in Precast Summit" will take place.
Media partner BFT International
Your BFT International magazine will be the media partner of the "Innovation in Precast Summit" in Dubai. Free copies of the latest issues will be available for you at the BFT International booth. The BFT team is looking forward to seeing you and, of course, the team will visit your exhibition boosts, too.
The BFT editors will provide detailed information on the show and the "Innovation in Precast Summit" in one of the BFT issues at the turn of the year 2017/2018 and in the associated issue of the BFT app as well as on the BFT website (www.bft-international.com).