Dyckerhoff Weiss
Smooth-formed façade from white concrete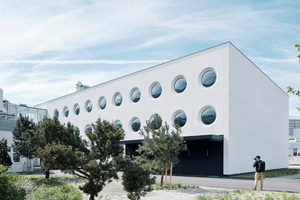 Figure: X Architekten ZT
The façade featuring large round windows is truly an eye-catcher
Figure: X Architekten ZT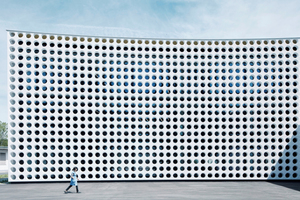 Figure: X Architekten ZT
One side of the building exhibits a grid of small openings
Figure: X Architekten ZT
The concrete façade manufactured by Systembau Eder from Peuerbach on the basis of Dycker­hoff Weiss Decor and interspersed with round window openings arranged in a regular pattern is truly an eye-catcher. The window openings are different in size on the different sides of the building. Three sides of the building are made up of a total of 81 large slabs with an average size of 11.7 m². Of these slabs, 26 have a large round window each with an opening size of approx. 190 cm. As neither formwork joints across the façade as a whole nor offsets at the window jambs were permitted, a Reckli PLAFOND formliner was used. Mats and bars were used as reinforcement.
The fourth side of the building is made up of 67 elements with an average size of 7.0 m² and has a total size of 470 m². This side features a grid of small openings; the windows are conical in shape and between 38 cm and 45 cm in size. The steel formwork used to produce these façade elements is an in-house development of Systembau Eder.
Reinforcement using plastic fibers
Special mats were used as reinforcement; in addition, plastic fibers were added during concrete production. The façade has a smooth-formed finish, and the look of the fair-faced concrete surfaces is reminiscent of ceramics rather than concrete. A total volume of 150 m³ of white concrete in class C30/37 was achieved; 2.5% of titanium dioxide was added. Altogether, the façade is made up of 148 elements and covers a total surface of 1,422 m².
Construction of the building designed by X Architekten based in Linz began in 2016 and was completed in 2017. The production and storage facility covers a total floor space of 2,400 m². Silhouette International Schmied AG is an Austrian family business founded in 1964 and headquartered in Linz. Meanwhile, a major proportion of their production is exported. The company distributes its glasses partly under the Silhouette brand but also produces them under license.