Monday, 15th Nov. → Innovation workshop (4)
Smart mold solutions for 3D precast room systems/modular construction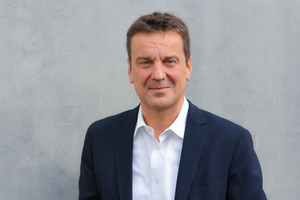 Jörg Reymann
Managing Director of the companies Ratec GmbH and Reymann Technik GmbH, based in Hockenheim, Germany, and since 2017 also Director of Ratec Asia Pte Ltd., based in Singapore. Graduated from Technical University of Kaiserslautern, Germany, with a Master of Science in Business and Engineering and joined his father's engineering company Reymann Technik in the early 90s. From there he steadily further expanded the know-how in rational formwork and production solutions for precast concrete production and made the next step with the foundation of Ratec as formwork supplier.
Modular construction was for a long time and still remains one of the trending topics throughout construction industry. Further development of concrete and digital technologies enhance the design possibilities, variability and acceptance. This entails, that production equipment, mainly the forming solutions should also adapt to increased complexity, efficiency demands and the wish for flexibility.
As innovation leader in magnetic formwork technology, Ratec thrives to also provide "better ideas" in the field of 3D elements production and has presented its own mold solutions to the market in the past few years. The presentation will give an overview of Ratec's 3D mold program and previously finished projects, showcasing the challenges and how they can be met.
In the presentation Joerg Reymann will take a look on some common challenges that include, but are not limited to:
Architectural Design / Standardization,
Flexibility,
Logistic challenges (Transport Challenges, Crane Capacity, Lifting frame Design, Fixation of transport anchors),
Integration and Connection of MEP,
Other aspects that have an impact on mold requirements are element quality, productivity of the desired mold solution, reusability of molds, lead times in mould fabrication, and space issues.
In the presentation, we will take a look on different categories of molds that can be grouped either by mold features, production technology or concrete technology.
A distinctive feature in all 3D molds is the type of core and how the core is handled. The inner core can be either designed with a slope for demoulding or otherwise needs to be shrinkable. Furthermore, a mold core can be either "standing", which means, it is fixed inside the mold and the element is lifted out from over the core. The other type of core is what we call "flying" core, as it is lifted by crane inside and out of the mold, whereas the element itself is casted in installation position. Each configuration has its own advantages and prerequisites and is indicated for different requirements.
The mold portfolio by Ratec mainly consists of 3 types of configurations:
1. Fixed conical core,
2. "Flying" shrinking core – in combination with upcrete,
3. Fixed shrinking core – the flexible mold kit,
Those configurations will be demonstrated using project examples from Peru, Germany and Singapore.
1. Fixed conical core - New mold solution for transformer stations
This mould type is characterized by a standing non-shrinkable core, that includes a slope for demolding purposes. This type of mold is used mainly in the production of transformer stations, and is a common use case in Europe. The mold can cover a large part of different design variants for different types of transformer stations with only one mold. This is achieved by interchangeable upper parts for the core and by a design, that allows for a change of element length or height.
2. "Flying" shrinking core - the upcrete principle
The room module formwork with "flying" shrinking core was the first development of a volumetric mold from Hockenheim and was used in the Modular Housing project of a Peruvian customer. This mold type is set up for the use in combination with upcrete technology, which means self-compacting concrete is pumped from below into a closed mold. The process allows for optimal spreading of the concrete within the formwork and smooth surfaces on all sides as well as the exact formation of edges and recesses. Modular Housing with upcrete is designed for projects with room modules of similar size and pays off over the entire project period by the number of manufactured modules and houses (recommendation:> 600 houses).
3. Fixed shrinking core - the mould kit principle
With the intention to offer an adequate solution even for smaller projects with lower production volume, a mold solution was designed, which a) is suitable for filling from the top and from below, b) guarantees even more flexibility and c) with which also complex details in the element can be realized. The solution developed by Ratec can easily be integrated into existing production facilities thanks to the possibility of conventional filling from the top. A special feature of the new mold development is, on the one hand, the patent-pending shrinking mechanism, in which the core is lifted and shrunk in the same work step. On the other hand, the formwork was intentionally designed following the idea of a flexible mould kit. As a result, the mold solution can be used economically efficiently even if the production volume of a certain room element type is low. The projects, that will be presented, include mold development and production solutions for modular high-rise buildings, modular single-family houses, and utility units.
After the presentation, the audience should have more understanding of the different concepts and how they can be used in the right way.