STOCRETEC
Ribbed floor slab repair with mortar grade R4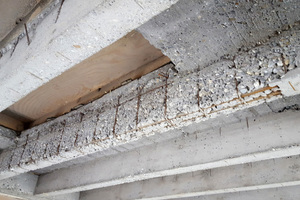 Figure: Stocretec
The ribbed concrete floor slabs showed significant damage, including exposed reinforcement
Figure: Stocretec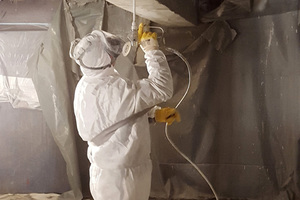 Figure: StoCretec
Following application of the TS 203 repair mortar, the rehabilitated ribbed floor slabs were sealed with Stopox WL 100 finish
Figure: StoCretec
The ravages of time have taken their toll on the building substance of the high school in Balingen, Germany. In addition, the building no longer met the stringent safety requirements of today – a comprehensive rehabilitation and modernization was therefore crucial. In order to keep school activities running, the works were carried out in stages. During repair, the ribbed slab products from Stocretec were used.
The high school in Balingen was opened in 1969 and there are currently around 1,100 students in 49 classes, with around 90 teachers. Half a century of schooling left numerous marks. The fixtures and fittings also no longer met today's requirements for safety and fire protection. For that reason, the old wooden ceiling, including polystyrene insulation, had to be replaced, among others. The ribbed concrete floor slabs underneath showed serious damage, extending to partly exposed reinforcement – so that the loadbearing capacity of the floor was no longer ensured.
Loadbearing capacity and fire protection restored
The repair of the ribbed floor slabs was undertaken by the company Betos GmbH (Gelnhausen, Germany), with products from Stocretec. In the first step, the tradesmen prepared the concrete subsurface by means of wet sandblasting in order to ensure bonding of the subsequent layers. In the second step, they applied Stocrete TK corrosion protection to the exposed reinforcement. For reprofiling the damaged areas and for increasing the concrete cover, one layer of Stocrete TS 203 repair mortar with a rough surface was applied. This grade R4 mortar increases the loadbearing capacity of the ribbed floor slabs and, at the same time, restores their fire resistance (construction material class A2-s1, d0 – inflammable – in accordance with EN 13501-1). Stocrete TS 203, in addition, demonstrated its very good overhead processing capability and its very low rebound effect during application.
As finish, the repaired ribbed floor slabs were sealed with Stopox WL 100. The shiny water-based varnish is a low-emission VOC product and is therefore optimal for use indoors. The two-component material was applied by airless spraying – which saves time and ensures a good surface quality.