Monday, 15th November → Keynote speeches (2)
Customization and afterlife of concrete elements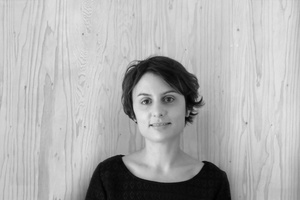 Kathrin Susanna Gimmel
Architect and partner at JAJA Architects and current member of the Danish Arts Committee for Architecture.
In addition to her work at JAJA, Kathrin has been teaching at the Royal Danish Academy of Fine Arts, School of Architecture in Copenhagen, where she was co-editing the Atlas of the Copenhagens – a book investigating the mechanisms of sustainable city measurement in regards to the urban territory of Copenhagen.
Advancements in production technologies and the urgency to reduce carbon footprint in construction call for new design and production practises for precast concrete architecture. Kathrin Gimmel will present JAJA´s experimental approach to design with customized and reused precast concrete elements. The lecture will circle around two projects: Konditaget Lüders – a parking house and rooftop playground in Copenhagen and Ressource Blokken – a project that explores possibilities of direct reuse of precast concrete elements.
Konditaget Lüders aka. "Park'n'play" is a hybrid structure between parking house and playground. It rethinks the monofunctional parking house and transforms what is often an infrastructural necessity into a public amenity. Located on the rooftop – 24 meters above ground – it provides a recreational area and a view of the horizon, often only for the privileged few.
The project rethinks not only the functionality of the car park but customizes furthermore the standard precast elements that are applied in most Danish car parks. The normally grey elements are tinted with a red pigment to give the structure a warm glow. Instead of hiding the parking house structure, the grid is accentuated. A system of planters is hung in a pattern informed by the grid, celebrating the structure rather than masking it. These planters give the façade a rhythm, introduce a sense of scale to the building, and distribute greenery across the façade.
The 7.5m wide planters are made from high strength concrete allowing for a light structure despite the large dimensions. The same production technique was also applied for the production of stairs, benches and boxes on the roof-top playground. Together with the red thread – a sculptural installation – the roof-top elements offer a palette of recreational activity. From swings, trampolines, jungle gyms, crossfit equipment, panna court, wind benches and more, it attracts playful and athletic children, adults and elderly.
Rather than customizing new precast concrete elements the project Ressource Blokken seeks to overcome the major challenges involved in the direct reuse of concrete elements. The project is conducted in collaboration with GXN and a team of engineers, construction- and deconstruction companies as well as experts in building component registration and certification.
Construction causes significant CO2 emissions, through the process of construction itself and through processing of natural resources into construction products. Steel and concrete are materials with a heavier environmental footprint, which is why direct reuse of these materials is key to combating climate change in construction. To do so we must develop new construction practices, avoiding waste and find ways of reusing building structures and materials.
Countless buildings are demolished yearly. In many cases these buildings contain materials, which are still structurally sound and therefore have long lifetimes ahead of them if reused. But due to complex factors – socioeconomic, technical, aesthetic – buildings and building materials are often demolished and lost.
In Denmark, 1.3 million m² of social housing is set to be demolished by 2030 following the Government plan 'One Denmark without Parallel Societies' - only to be substituted by 700,000 m² of new build housing.
In this context, direct reuse of concrete has vast environmental beneficial potentials, but comes with its own intractable challenges. Prompted by the unique situation arisen from the politically mandated demolition, Ressource Blokken brings a wide array of partners including architects, demolition contractors and housing associations together to produce knowledge and documentation on how direct reuse of concrete can be initiated at large scale to produce high quality aesthetic and sustainable buildings.
During the second phase of the project, the team is focusing on the reuse of hollow-core slabs. The team will study and document the processes around registration, deconstruction, certification and reuse of the of this specific building element. The learnings will hopefully lead to the reuse of many more types of concrete elements and low CO2 impact business opportunities in the precast concrete sector.