Silikal GmbH
"Beastly good" flooring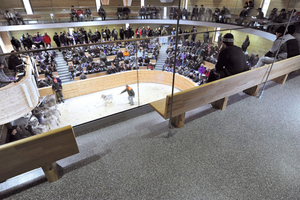 Photos (3): Silikal
The heavily used floor has to withstand the demanding conditions and shall be easy to clean
Photos (3): Silikal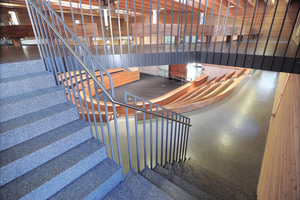 Photo: Silikal, Mainhausen
Individually adjusted degree of slip resistance provide for safety
Photo: Silikal, Mainhausen
At Agrarzentrum West, the agriculture center in the town of Imst/Tyrol (Austria), Silikal coated a floor covering 1,500 m² with methyl-methacrylate (MMA) reactive resin. As far as the floor is concerned, the modern marketing center attaches importance to easy cleaning, an appealing visual appearance, safe footing and rapid curing times.
Used as an agricultural meeting point in the Tyrolean uplands, Agrarzentrum West, that was opened in October 2011, provides an auction hall accommodating 400 spectators, a restaurant as well as further office and administration facilities beside the livestock stables. A roofed hall constituting the connecting element of various functional areas is the heart of the building structure. Wood is the mostly used building material here, that responds to the gray MMA reaction resin flooring of Silikal as a modern and attractive combination of material and color.
An overall floor space of 1,500 m² was...